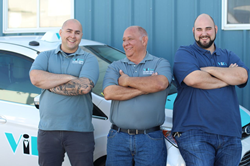 We value the drivers that work with VIP Taxi, and take pride in being able to help them provide for their families. We've been happy to be able to bring opportunities for those that lost their jobs due to the pandemic
PHOENIX (PRWEB) April 14, 2021
New cases of COVID-19 in Arizona were at an all-time high in January, reaching a point of 13,763. As of April 12, new cases have decreased significantly to 685. As cases in Arizona continue to decrease, and more individuals are getting vaccinated, there has been a sudden rise in demand for transportation.
The Transportation Security Administration (TSA) reported more than 1.3 million people that traveled on March 12th this year, the highest number on any day since March 2020, with numbers still on the rise.
An observed increase in travel from out-of-state visitors into Arizona (and locals traveling out of the state) is keeping drivers very busy serving hotels, resorts, airports, bars, and more.
Arizona's local, family-owned and operated transportation company, VIP Taxi, is rising to the occasion to serve the community's needs while providing a great source of income to local drivers.
"We value the drivers that work with VIP Taxi, and take pride in being able to help them provide for their families. We've been happy to be able to bring opportunities for those that lost their jobs due to the pandemic," says Dave Gauer, owner of VIP Taxi.
VIP Taxi has beat the odds, continuing to grow despite challenges such as the pandemic, the ridesharing boom, and more. How do they do it?
The answer is simple, keeping the customers' and drivers' safety and satisfaction a priority. Many rideshare drivers have switched over to VIP Taxi for a better overall driver experience.
Independently contracted drivers use VIP branded vehicles instead of their own, with benefits such as 24/7 tow and vehicle swap support, limiting any downtime, in addition to a high-demand customer base that has been a wealth of opportunity. VIP vehicles are maintained by ASE Certified Master Mechanics and equipped with video, audio, night vision, and inertia event camera recording for maximized safety.
Drivers work their own hours and are also afforded more avenues for earning money since VIP Taxi is contracted with Arizona's top hospitals, resorts, and casinos with the ability to accept cash and credit. Not to mention the flag trips drivers can accept at any time.
With open communication between drivers and local management, drivers feel valued and supported. VIP Taxi is owned and operated by the Gauer Family, Dave with his sons Jason and Brandon. You can find any of the Gauers at VIP headquarters any given day, working hard to keep operations running at high standards, connecting with drivers and customers to further improve their services.
As Arizona's economy bounces back from the pandemic, it can be expected that even more travel is to come, further increasing the need for transportation services and reliable drivers.
About VIP Taxi
VIP Taxi is a local, family-owned, and operated transportation company, based in the Metro Phoenix and Tucson areas for almost 15 years.
To keep up with growing demand, VIP Taxi is seeking drivers that have a valid Arizona driver's license and are 23 years of age or older. Background checks and drug testing are standard. Those interested may sign up for the next driver orientation seminar online. For more information and to be part of the VIP family, please visit VIPTaxi.com/drive.