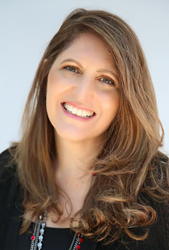 Joining NSBA's Leadership Council will enable me to take our collective small-business message to the people that need to hear it most: Congress. - Carmela Roth
LOS ANGELES (PRWEB) March 16, 2021
Carmela Roth, RED Company, Long Beach, California was recently named to the National Small Business Association (NSBA) Leadership Council. NSBA is the nation's oldest small-business advocacy organization and operates on a staunchly nonpartisan basis. Roth, a recognized leader in the small-business community, joins the NSBA Leadership Council alongside other small-business advocates from across the country as they work to promote the interests of small business to policymakers in Washington, D.C.
Roth looks to share this vision with her network including Women Presidents' Organization (WPO), National Association of Women Business Owners (NAWBO), Women's Business Enterprise National Council (WBENC), Diversity Alliance for Science and a variety of corporations.
"As a small-business owner, I see daily the importance of being involved and active when it comes to laws and regulation," stated Roth. "Joining NSBA's Leadership Council will enable me to take our collective small-business message to the people that need to hear it most: Congress."
As RED Company's founder and President, Carmela Roth brings over 30 years of experience and dedication in meeting planning, special event production, sourcing and logistics.
Roth served a two-year term on the Board of Directors for Diversity Alliance for Science, a platform to identify, attract and develop small and/or diverse businesses to drive inclusive procurement practices in corporate, academic and governmental entities within the life science and healthcare industries. Currently, she serves on the Caretaker Advisory Board for CHYP (Creative Healing for Youth in Pain). RED Company has been on the Los Angeles Business Journal's List of Top 100 Women-Owned Businesses for the last seven years and Top 100 Fastest Growing Private Companies for three. In 2016, RED Company earned recognition in Inc. 500's 5000 Fastest Growing Private Companies in the US.
Roth joined the NSBA Leadership Council as part of her efforts to tackle the many critical issues facing small business, including tax reform, regulatory restraint, health care costs and how the Affordable Care Act will impact small business. The NSBA Leadership Council is focused on providing valuable networking between small-business advocates from across the country while ensuring small business a seat at the table as Congress and regulators take up key small-business proposals.
"I am proud to have Carmela Roth as part of our Leadership Council," stated NSBA President and CEO Todd McCracken. "She came to us highly recommended, and I look forward to our coordinated efforts for years to come."
Please click here to learn more about RED Company.
For more on the NSBA Leadership Council, please visit http://www.nsba.biz.
About RED Company
RED Company is a full-service meeting/event planning and promotional items company. Although the pandemic has temporarily put a hold on in person meetings, RED Company continues to plan and produce engaging virtual meetings, networking and team building events. The combination of working from home, social distancing and isolation has only reinforced that people need to feel connected. RED Swag works with corporations to create thoughtful, impactful and inspiring gifts which are fulfilled, perfectly packaged and drop shipped. Unboxing becomes an experience filled with surprise and delight. Recipients feel caRED for, remembeRED and connected.
RED Company is comprised of a group of people brought together by a kindRED spirit. They care about each other, their clients, their suppliers, their communities and the planet. They care about giving back through RED's Power-full Acts of Compassion and Kindness™ initiatives through their RED PACK™ Program. To interview or collaborate with Roth, please email carmela.roth@redcompany.com.