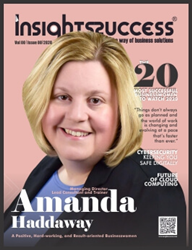 FREDERICK, Md. (PRWEB) June 25, 2020
Amanda Haddaway, managing director of HR Answerbox, was recently selected by Insights Success as one of the 20 Most Successful Businesswomen to Watch in 2020.
Insights Success is a global business magazine that focuses distinctively on emerging and leading companies, their reformative style of conducting business and ways of delivering effective and collaborative solutions to strengthen market share.
"I am honored to have been selected for inclusion in this list," said Haddaway.
In her role as the managing director of HR Answerbox, she serves small businesses and start-ups as a talent optimization expert and advisor on employee relations challenges. She has more than 40,000 hours of experience in HR and holds the two highest professional certifications, SPHR and SHRM-SCP, as well as a Master of Jurisprudence degree in Labor and Employment Law from Tulane University Law School, a Master's degree from George Washington University and a Bachelor's degree from James Madison University.
She was recognized as the Most Influential Woman in HR Training - USA by Acquisition International and the Gamechanger of the Year (US-East Coast) by ACQ Global Awards last year.
Additionally, she is the creator of New Manager Bootcamp and the author of two books.