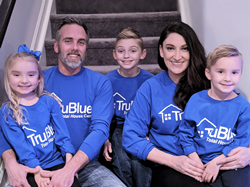 Whether you're bringing us in to help an older loved one age safely in place, you need a little help from a handyman or you just don't want to spend the whole weekend cleaning your house, our trustworthy, background-checked employees will treat you and your home with the respect you deserve.-Roberts
WHITESTOWN, Ind. (PRWEB) March 02, 2021
Experienced business leader and real estate professional Whitney Roberts is pleased to announce the launch of her new professional house care company, TruBlue Total House Care of Indianapolis West.
TruBlue of Indianapolis West serves the western side of Indianapolis, including Whitestown, Lebanon, Brownsburg, Avon, Danville, Jamestown, Pittsboro, Clermont, Lizton, Clayton, Coastville, Eagle Creek and the surrounding areas.
Clients looking for dependable, high-quality, individual services can hire TruBlue for handyman repairs, cleaning services, yard work, seasonal services and minor home renovations. TruBlue also works with homeowners, realtors and rental property owners who need to get homes move-in ready quickly and keep them maintained as well as business clients.
TruBlue also offers a suite of senior-focused services, including the ability to do Senior Home Safety Assessments, make age-friendly renovations and offer House Care Plus, a regular service program that can help seniors enjoy the comforts and convenience of owning a home without worrying about the maintenance hassles.
"Hiring TruBlue is really about Peace of Mind. Whether you're bringing us in to help an older loved one age safely in place, you need a little help from a handyman or you just don't want to spend the whole weekend cleaning your house, you can rest assured that our trustworthy, background-checked employees will treat you and your home with the respect your deserve and we'll be on time, every time. Our one-call-does-it-all service makes working with TruBlue easy and convenient," Roberts said.
Roberts has owned and operated businesses before and was in commercial real estate before deciding to franchise with TruBlue Total House Care.
"TruBlue offers a needed service to an underserved community and it's something I knew I could get behind. I grew up on the West side of Indy and I'm eager to bring this service to the area," Roberts said.
TruBlue of Indianapolis West is licensed, bonded and insured. To learn more about TruBlue of Indianapolis West, call 317-458-9898, email WRoberts@TruBlueHouseCare.com or visit http://www.trubluehousecare.com/indianapolis-west.