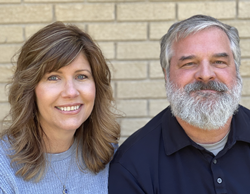 My dad passed away in October and, after seeing what my family went through and everything my mom had to deal with, I saw a clear need for Caring Transitions in our area. There really aren't any other companies like this anywhere in our region. - Joanna Milkay
BIRMINGHAM, Ala. (PRWEB) April 21, 2021
Local couple John and Joanna Milkay are pleased to announce the launch of their new senior-focused relocation and estate clearing company – Caring Transitions of South Birmingham.
Caring Transitions is the professional and compassionate choice for senior moves, downsizing and online estate sales. Caring Transitions' specially-trained professionals handle every detail of their clients' transition including decluttering, cleanouts, packing, move management, unpacking, resettling into your new home with both in-home and online estate sales. Caring Transitions of South Birmingham works with clients in Birmingham, Helena, Homewood, Hoover, Mountain Brook, Pelham, Vestavia and the surrounding communities.
"Caring Transitions is different because of our focus on the customer experience. What we do isn't just about helping you pack or resettle or clear out a home – it's about helping relieve the stress of you doing any of that alone so you can focus on your life and the people and things that matter most. Our goal is to build trust with our clients and the community so you feel comfortable leaning on us in your time of need," John said.
Caring Transitions' services are perfect for managing the many aspects of a senior move, including assisting with the process of downsizing to provide a safer living situation, as well as for busy families and people clearing out the home of a loved one who has moved into assisted care or passed away. All of Caring Transitions' services are customizable, so clients choose the solution that best fits their needs.
John retired from US Steel and then worked as a plant manager before a second retirement. Joanna, who has lived in the Birmingham area her whole life, is a counselor with her own practice. The two were looking for a new adventure they could pursue together when they found Caring Transitions. While there are more than 200 Caring Transitions locations throughout the country, Caring Transitions of South Birmingham is only the second franchise in Alabama.
"My dad passed away in October and, after seeing what my family went through and everything my mom had to deal with, I saw a clear need for Caring Transitions in our area. There really aren't any other companies like this anywhere in our region and the only other Caring Transitions franchise is in Mobile. We are looking forward to bring Caring Transitions to the Birmingham area," Joanna said.
Caring Transitions of South Birmingham is bonded and insured and all employees are background checked. For additional information, call 205-749-8455, email JMilkay@CaringTransitions.com or visit http://www.caringtransitionssbham.com/.