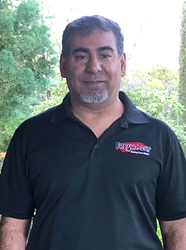 We are really excited to be doing business within our community as small business owners. I truly believe Fresh Coat Painters is uniquely professional, honest and trustworthy and I'm looking forward to bringing that to this area. - Alex Monabbat
EL DORADO, Calif. (PRWEB) December 05, 2018
Alex and M Monabbat are pleased to announce the launch of their new professional painting company, Fresh Coat Painters of Roseville-Folsom.
Fresh Coat Painters offers residential, commercial and government painting services including interior or exterior painting, deck sealing and staining, pressure washing, popcorn ceiling and wall paper removal and other services for nearly every protective coating application. Fresh Coat Painters of Roseville-Folsom has a 24/7 receptionist, online scheduling and free detailed quotes, and they only use high-quality materials. Fresh Coat Painters of Roseville-Folsom serves El Dorado, Granite Bay, Folsom, Roseville, Citrus Heights, Fair Oak and the surrounding areas.
"We are really excited to be doing business within our community as small business owners. I truly believe Fresh Coat Painters is uniquely professional, honest and trustworthy and I'm looking forward to bringing that to this area," Alex said. "Fresh Coat is different in many ways, but I think it's important to know that we are bonded, licensed and insured and that our clear, firm quotes include two coats of paint. We believe in doing the job right the first time and having a durable finish – which is why we always do two coats and it's included in the price. It's just part of our commitment to customer service."
Fresh Coat also offers a 3-3-3 customer service pledge, which means calls will be answered by a live person within three rings, a quote will be delivered within three days (customer schedule permitting) and the job will be started within three weeks. Fresh Coat Painters has a national product partnership with Sherwin-Williams®, so products are guaranteed to be high quality.
The Monabbats have lived in the Sacramento area for more than 20 years. They both started their careers in the computer industry, but Alex decided to leave that field and become an entrepreneur.
"I've done a lot of different things over the years, but I've always had a passion for the trades and my family has a long history in carpentry. As I started to think about what I wanted to do next, I decided I wanted to pursue something a little more hands on that could also offer a needed service to the community. I love doing projects that make people happy – and that's exactly what we do at Fresh Coat," Alex said.
Fresh Coat was founded in 2004 as part of Strategic Franchising Systems. Since 2015, Fresh Coat has been included in the Bond's Top 100 and named to Entrepreneur Magazine's Franchise 500 list. Fresh Coat is also part of the International Franchise Association, the Small Business Association's Franchise Registry, VetFran and Minority Fran.
For more information about Fresh Coat Painters of Roseville-Folsom, call 916-304-9592, email AMonabbat@FreshCoatPainters.com or visit https://www.freshcoatpainters.com/roseville-folsom/.