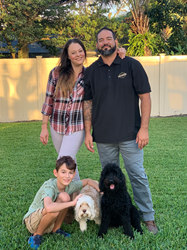 We wanted to bring Pet Wants to our community because we want the best and most nutritious food possible for our cherished pets and we know other people feel the same. - Edson Alvarez
ORLANDO, Fla. (PRWEB) October 30, 2018
Orlando residents Summer Crabb and Edson Alvarez – along with their pets Emmett, Lexie and Snowball – are pleased to announce the launch of their new business, Pet Wants South Orlando.
Pet Wants' specially-crafted, proprietary pet food formulas are made in small batches with fresh, natural ingredients enhanced with vitamins and minerals for a complete and balanced diet in every bowl. Pet Wants South Orlando offers multiple blends of dog and cat food formulas as well as healing salve, calming balm, anti-itch spray, paw wax and more. Pet Wants South Orlando is a mobile business that offers free, personal delivery to Conway, Belle Isle, SODO, Lake Nona, Lee Vista and the surrounding area.
"We wanted to bring Pet Wants to our community because we want the best and most nutritious food possible for our cherished pets and we know other people feel the same. We feel strongly that the fresh, slow cooked dog kibble gives our dogs and cat exactly what they need to stay healthy, energetic and feel their best," Edson said.
Prior to launching Pet Wants, Summer worked at House of Blues and Edson has been working as a Sound Engineer for Film and TV for 15 years. Now that they have a son, Xavier, they decided it was time to pursue their long-time dream of owning their own business. Summer has always been passionate about animals and grew up with show Collies (as many as six at once). The couple, who have lived in Orlando for 15 years, got their first pet three years ago and now the happy pet parents of a Cockapoo named Emmett, a Goldendoodle named Lexie and a cat named Snowball. As they were researching business options, they came across Pet Wants and it struck a chord.
"Our dogs had skin allergy problems and the constant itching was making them miserable. As we were researching Pet Wants, we started feeding them Pet Wants food and the itching has gotten so much better. They are happier, healthier animals," Summer said. "We believe in Pet Wants and we know that some of the problems so many pet families face – like our dogs' allergies – can improve with the right food and the right ingredients. We're looking forward to offering those kinds of foods and products here in our own community."
Pet Wants has a 100-percent, money-back guarantee on the freshness and quality of the food and the company only sources the best salmon, chicken, lamb, brown rice and other ingredients available. There's no sugar added, no fillers and no animal by-products and Pet Wants never uses corn, wheat, soy or dyes, which makes the food great for animals with allergies.
Pet Wants South Orlando also offers a variety of Spaw products, including a few Summer thinks will be especially helpful in Florida.
"It is so hot here and that can really impact our animals. I think our paw wax, cooling spray and insect repellent are going to be some of our most in-demand products. It's important that we take care of our pets and those Spaw products can help protect their feet when they walk on hot asphalt, cool their hot spots and help keep the bugs away. We're looking forward to sharing those products – and all of our products – with the Orlando community," Summer said.
To learn more about Pet Wants South Orlando, call (407)969-1027, email SCrabb(at)PetWants.com or EAlvarez(at)PetWants.com, or visit https://PetWantsSouthOrlando.com/.
About Pet Wants: Pet Wants was started by Michele Hobbs out of love for her pets and frustration. Veterinarians were unable to help relieve her dog's painful skin allergies. After doing much research, Michele discovered the national dog food brand she trusted was not fresh, not all natural, and lacked sufficient nutrition and – when pet food sits in warehouses and store shelves for months and months – it loses even more nutritional value. She was committed to developing a better solution for all dogs and cats. Their food is exclusively crafted. It's fresh, healthy and slow-cooked with no sugar added, no fillers and no animal by-products. They source only the best salmon, chicken, lamb, brown rice, and other ingredients. Fresh ingredients make for better food… and better health for pets. And since they never use corn, wheat, soy or dyes, the common pet health problems associated with these ingredients are no longer worries. Their fresh food is conveniently delivered to the customer within weeks of production, not months. Roughly half of Pet Wants products are sold through their store and half through their convenient, home-delivery program. You can learn more at http://www.PetWants.com.