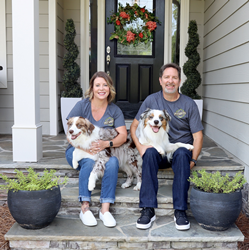 Our fur babies are part of our family and we want to give them the best chance at long, healthy lives, which starts with providing high-quality, limited-ingredient nutrition. We are excited to bring Pet Wants to this community. - Adam Turnage
NEWNAN, Ga. (PRWEB) September 02, 2020
Adam and Heather Turnage are pleased to announce the launch of their new business – Pet Wants Newnan, a mobile pet food and supplies business that offers free, personal delivery in Newnan, Peachtree City, Sharpsburg, Tyrone, Senoia, Chattahoochee Hills, Serenbe and the surrounding areas.
Pet Wants' specially-crafted, private-label pet food formulas are made in small batches with fresh, natural ingredients enhanced with vitamins and minerals for a complete and balanced diet in every bowl all made in the USA. Pet Wants Newnan has multiple blends of dog and cat food formulas as well as healing salve, calming balm, anti-itch spray, paw wax and more.
Pet Wants has a money-back guarantee on the freshness and quality of the food and the company only sources the best salmon, chicken, lamb, brown rice and other ingredients available. There's no sugar added, no fillers and no animal by-products and Pet Wants never uses corn, wheat, soy or dyes, which makes the food great for animals with allergies.
"I've had pets – and my daughter has a dog – with special nutritional needs. I know what it's like to stand in a big box pet store trying to read labels while Googling each one to make sure nothing has been recalled. It's frustrating and overwhelming. With Pet Wants, I can tell you exactly what's in – and not in – our food and when it was made," Heather said. "Our granddog had all sorts of issues, including hot spots, rashes and major weight problems from not being able to digest certain ingredients. At this point he's only partially switched to Pet Wants and he's already doing so much better. We are so excited to see the impact Pet Wants will make on our family and our community."
Adam is a Navy veteran with a corporate background and Heather is the owner of another local business, which has been in operation for the last nine years. The Turnages have three married adult children, one granddaughter and four granddogs. They also have two of their own fur babies – Australian Shepherds named Indigo and Jaxx – who are just shy of two years old.
"Our fur babies are part of our family and we want to give them the best chance at long, healthy lives, which starts with providing high-quality, limited-ingredient nutrition. We are excited to bring Pet Wants to this community and to help pet families find the best products for their individual pets," Adam said.
To learn more about Pet Wants Newnan, call 678-326-4333, email ATurnage@PetWants.com or visit https://www.petwants.com/newnan/.