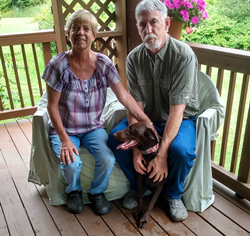 As we were thinking about opening our own business, doing something that would honor their lives and continue their legacy brought us to Pet Wants. We are looking forward to helping families give their pets longer, healthier lives with Pet Wants Central Vermont. - Harold Blake
BARRE, Vt. (PRWEB) October 12, 2021
Harold Blake lost his sister to cancer and his mom to COVID-19 in 2020. Now Harold and his wife, Linda Blake, are looking forward to starting a new chapter while honoring the lives lost with their new business – Pet Wants Central Vermont.
"My mom and my sister loved animals and both did quite a bit of volunteer work during their lives. As we were thinking about opening our own business, doing something that would honor their lives and continue their legacy brought us to Pet Wants. We are looking forward to helping families give their pets longer, healthier lives with Pet Wants Central Vermont," Harold said.
Pet Wants' specially-crafted, private-label pet food formulas are made in small batches with fresh, natural ingredients enhanced with vitamins and minerals for a complete and balanced diet in every bowl, all made in the USA. Pet Wants Central Vermont has multiple blends of dog and cat food formulas as well as healing salve, calming balm, anti-itch spray, paw wax and more. As a mobile business, the Blakes offer free, personal delivery throughout Central Vermont, especially Washington and Chittenden counties, including the communities of Barre, Montpelier, Burlington, Stowe, Berlin and the surrounding areas.
Harold's mom and sister aren't the only animal lovers in the family – Linda and Harold have rescued abandoned animals, adopted cats and dogs, and even raised wild fish. They currently have an adopted black cat named Hope and a chocolate lab puppy named Joy. Linda and Harold have been married for 43 years and have been in Central Vermont for the last 25 years. Harold has a background working with individuals with developmental disabilities, including coaching the Central Vermont Special Olympics. Linda has been a server at Vermont's busiest restaurant for almost 25 years.
"In addition to the benefits for the animals of our community, Pet Wants gives us an opportunity to be involved in the region as small business owners, which is a new and exciting adventure for us," Harold said. "Pet Wants fresh, nutritious products align with our values and we're thrilled to be able to share them with the Central Vermont area."
Pet Wants has a money-back guarantee on the freshness and quality of the food, the company only sources the best salmon, chicken, lamb, brown rice and other ingredients available. There's no sugar added, no fillers and no animal by-products and Pet Wants never uses corn, wheat, soy or dyes, which makes the food great for animals with allergies.
To learn more about Pet Wants Central Vermont, call 802-622-1188, email HBlake@PetWants.com or visit http://www.PetWants.com/CentralVermont.