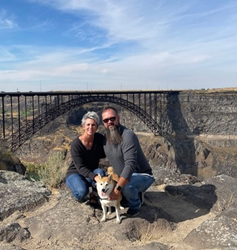 Good nutrition is vital for longevity, health and overall wellbeing, but finding the right food can be challenging. We are looking forward to offering that food and working with our customers to help them find the best products for their individual pets. - Valerie Steinmetz
TWIN FALLS, Idaho (PRWEB) November 01, 2022
When Mike and Valerie Steinmetz found Pet Wants, they realized it was not only the answer to their search for a better food for their Shiba Inu, Stella, but also the end of their quest for an opportunity to own their own business. Now the two are excited to announce the launch of Pet Wants Twin Falls, a mobile premium pet food and supplies company that offers free, convenient delivery services.
Pet Wants' thoughtfully crafted, private-label pet food formulas are made in small batches with fresh, natural ingredients with vitamins and minerals for a complete and balanced diet in every bow. All made in the USA, Pet Wants Twin Falls has multiple natural blends of dog and cat food formulas, treats, chews, as well as healing salve, calming balm, anti-itch spray, paw wax and more. Pet Wants Twin Falls is a mobile business that serves the Magic Valley, including Burley, Rupert, Jerome, Gooding, Hailey, Ketchum and the surrounding areas.
"While we were thinking about opening our own business, Stella started to get really finicky about her food, which led us to Pet Wants. Pet Wants fresh pet food was everything we had been searching for – healthy ingredients manufactured in small batches with the convenience of delivery – but we were disheartened when we realized there wasn't a Pet Wants store or mobile business anywhere in our area. That's when we decided Pet Wants was also the business we'd been looking for. If we were looking for a better food for Stella, then certainly other pet families in our area were doing the same. We're excited that we can be the answer to that search," Mike said.
Pet Wants has a money-back guarantee on the freshness and quality of the food, and the company only sources the best salmon, chicken, lamb, brown rice and other ingredients available. There's no sugar added, no fillers and no animal by-products and Pet Wants never uses corn, wheat, soy or dyes, which makes the food great for animals with allergies.
Valerie was born and raised in Twin Falls and graduated from Filer High School and the College of Southern Idaho. She spent 16 years in retail and 15 years in healthcare. Mike was raised in Twin Falls – his family moved to the area in 1979. He has a background in customer service and sales and, for the last years, has been working for UPS. The couple has one son named Chase.
In addition to offering delivery services, the Steinmetz are looking forward to providing the kind of pet nutrition expertise that can be hard to find in their area.
"Good nutrition is vital for longevity, health and overall wellbeing, but finding the right food can be challenging. We are looking forward to offering that food and working with our customers to help them find the best products for their individual pets," Valerie said. As native Idahoans, we are excited to provide the awareness, education and quality products that Pet Wants offers to the pet parents of the Magic Valley."
To learn more about Pet Wants Twin Falls, call 208-329-2920, email MSteinmetz@PetWants.com or visit https://petwantstwinfalls.com.