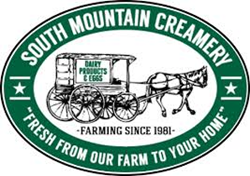 CEO and owner of South Mountain Creamery, Tony Brusco, said, "We were already working on a chocolate-inspired flavor. Frederick has a sister-city in Germany and so we can take that chocolate flavor and make it German chocolate and all of a sudden things started to come together."
FREDERICK, Md. (PRWEB) September 13, 2019
Ice cream enthusiasts across Frederick and its surrounding areas have spoken, and after more than a month of public voting, South Mountain Creamery (SMC) is set to announce the name of the official ice cream flavor of The City of Frederick Sept. 13 at The Great Frederick Fair.
The flavor was released by SMC July 30 at its restaurant in Downtown Frederick, Hometown Harvest Kitchen (HHK). It was created with Frederick's history and heritage in mind and pays tribute to some of its most influential figures. Its name is going to be announced just before the Lonestar and Terri Clark concert, around 7:15 p.m.
"We were really able to create the flavor in a matter of weeks versus months," CEO and owner of South Mountain Creamery, Tony Brusco, said. "We were already working on a chocolate-inspired flavor. Frederick has a sister-city in Germany and so we can take that chocolate flavor and make it German chocolate and all of a sudden things started to come together."
Guests were invited to HHK at the end of July to sample the new flavor and submit the name they thought best suited the ice cream. SMC then launched a naming contest that ran through the month of August and up to the day before The Great Frederick Fair.
The flavor names in consideration are:

1745
Angel Bright Delight (named for 19th century Mayor Jacob Englebrecht)
Baker Park Dark
Carroll Creek Crunch
Downtown Delight
Key To The City
Monocacy Mud
Nuts For Frederick
Schifferstadt Smash
The name that received the most votes will be announced at the fair, and the flavor will be available for purchase at the SMC ice cream trailer on site. The ice cream will also be available to sample and purchase outside of the fair at Hometown Harvest Kitchen moving forward. The voter who submitted the winning name will be awarded a prize package.
Final voting can be done here - https://www.visitfrederick.org/ice-cream/ice-cream-voting/?fbclid=IwAR0u94h_UHM7TZQBAHjNOzV33Tv0IbjXpUDA0vvbF1ygDsV3rxND0Hy04oM
SMC partnered on this contest with Visit Frederick. Visit Frederick is the recognized Destination Marketing Organization for Frederick City and Frederick County, Maryland. It operates the Frederick Visitor Center and related Visit Frederick programs that include Destination Marketing and Group Tour Marketing. For more information about Visit Frederick, visit http://www.visitfrederick.org or call 301-600-4023.
About South Mountain Creamery
Founded in 2001, South Mountain Creamery (SMC) is an on-site dairy processing plant located in Middletown, Maryland that specializes in making delicious ice cream from its own cows while also delivering the freshest produce, meat, and veggies to the homes of its customers. In partnership with SMC, Hometown Harvest Kitchen turns those fresh ingredients into delicious, satisfying, healthy meals. For more information, visit http://www.southmountaincreamery.com .