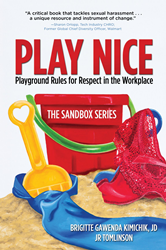 We want to empower women to find courage and respect for themselves, to take ownership of themselves and do something about bad behavior when it happens." - Brigitte Kimichik, co-author of Play Nice
DALLAS (PRWEB) October 03, 2019
Dallas resident and author Brigitte Gawenda Kimichik, JD has been invited to present and sign her book, Play Nice: Playground Rules for Respect in the Workplace, at the Arlington Public Library Fall Book and Author Luncheon on Thursday, October 10, 2019, at Shady Valley Country Club from 11:30 AM-1:30 PM. In Play Nice, published by Brown Books Publishing Group on May 14, 2019, Kimichik and co-author JR Tomlinson attempt to simplify the complicated workplace in the heat of the #MeToo movement by restating old playground rules that can be applied to prevent sexual harassment at work.
Both authors have 30 years of experience in male-dominated industries and want to provide solutions for both women and men to establish a respectful work environment where everyone can be dependable allies.
"We want to empower women to find courage and respect for themselves, to take ownership of themselves and do something about bad behavior...when it happens," Kimichik says. "The examples [in the book] are from our experiences, but most of them are drawn from colleagues, friends, young women who are in the environment now, and men who have been harassed too. We believe it's really important to take on the responsibility for yourself to deal with the issue right then and there and make it a teaching moment."
This event is open to the public, and the deadline to purchase tickets is Thursday, October 3, 2019. Tickets are $30.00 per person. Click here to purchase tickets. For more information about the event, please visit https://arlingtonlibrary.org/fundraising-events. For more information about the authors and their book, please visit http://www.thesandboxseries.com.