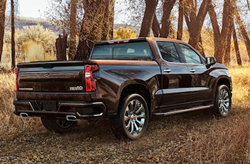 COLLINS, Miss. (PRWEB) October 16, 2019
Since 1971, Sullivan Motors has been serving the Collins area with honesty and integrity. The dealership offers a wide variety of new and used Chevrolet, Buick and GMC vehicles. For drivers looking for a tune-up, Sullivan Motors also has a service center in their building.
For shoppers who are looking for a great deal in the month of October, the dealership is now offering up to 90 days with no monthly payments for select trucks. This offer will go to well-qualified buyers when they finance with GM financial services. This offer will end on October 31. One truck featured is the Chevrolet Silverado.
With over 100 years backing up the Chevrolet Silverado 1500, there is a lot to be impressed by. The 2020 Chevrolet Silverado 1500 comes with the available 6.2-liter V8 engine. It has up to 23 city and 33 highway miles to the gallon.
Safety is always important to keep in mind. Some of the safety features in the 2020 Chevrolet Silverado 1500 include Forward Collision Alert, Automatic Emergency Braking and Adaptive Cruise Control.
Shoppers who are interested in the October Truck Month offers are invited to come to Sullivan Motors in Collins, Miss. Interested buyers can also schedule a test drive by either calling the dealership at 601-921-4629 or by filling out an online form on the dealership's website. The dealership is located at 3114 Highway 49 in Collins, Miss.