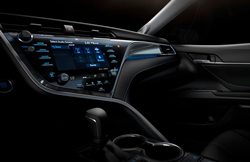 ENFIELD, Conn. (PRWEB) May 17, 2019
With new advances in technology, Gale Toyota is helping drivers learn more about their vehicles. As more vehicles come standard with more and more forward-thinking technology, Gale Toyota has decided to help car owners understand that technology for optimal use.
On May 30, 2019 Gale Toyota will be holding one of its Technology Nights. At this event, drivers will be taught how to use the convenience features and amenities inside some of the latest Toyota vehicles.
There is no need to schedule an appointment. This event is open to the public. Toyota drivers who want to learn more about their vehicle or are having troubles with it are encouraged to come. The event will run from 5 p.m. to 7 p.m. at the Gale Toyota service department.
There will be an overview lesson about the technology in the latest Toyota models as well as problem-solving tips and techniques. Visitors will also learn how to use Bluetooth navigation, pairing phones with a vehicle's sound system and more details about the Toyota Safety Sense technology. There will be time to ask questions about other features and how to use other technology in Toyota models as well.
This is a great opportunity for car owners to learn more about their vehicles and how to use them to their full potential. This Technology Night event can also be helpful for prospective car owners who want to learn more about new Toyota vehicles and the technology inside.
Interested parties can learn more about this event by visiting Gale Toyota's website: galetoyota.com. If readers have any more questions about this event, they can visit Gale Toyota at 50 Palomba Drive, Enfield CT and speak with a representative or call at 860-269-3608.