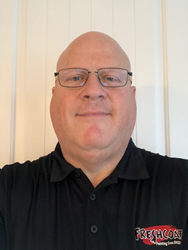 At Fresh Coat, we are committed to providing a better experience, from start to finish. We hire professionally-trained and experienced painters, we use the best Sherwin-Williams products and we value the importance of things like clear communication, timeliness and firm quotes. - Jay Holcomb
KATY, Texas (PRWEB) November 07, 2018
Experienced business owner and manager Jay Holcomb is pleased to announce the launch of his new professional painting company – Fresh Coat Painters of Katy.
Fresh Coat Painters offers residential and commercial painting services including interior or exterior painting, deck sealing and staining, pressure washing, wall paper removal and other services for nearly every protective coating application. Fresh Coat Painters of Katy has a 24/7 receptionist, online scheduling and free detailed quotes, and they only use high-quality materials. Fresh Coat Painters of Katy serves Katy, Fulshear, Brookshire, Waller, Pattison and the surrounding areas.
Fresh Coat Painters is not Holcomb's first experience in the painting/coatings industry. Although he has been working in the corporate supply chain industry for 24 years, he also had his own coatings/painting company back before the 2008 market crash. Although he was successful in his corporate career, he was ready for a change.
"I always enjoyed being a business owner, working with clients and having the opportunity to be out in the community. I was ready to do more than sit behind a desk and, as I thought about going back into the coatings/painting industry, I realized I could build on the business systems, processes and trust of a national company. That's when I found Fresh Coat.Fresh Coat Painters has a system that works and one of the highest standards of service in the industry. I'm excited to bring that to this area," Holcomb said.
Holcomb opened Fresh Coat Painters of Katy with the support of his wife and Co-Owner, Cindy, and their five sons. The family has had their own experiences with painters and they understand what people are looking for when they hire a painter.
"We've built several homes over the years and we've had trouble with painters cutting corners, using low quality materials and trying to just get the job done as quickly as possible. In one case I had to have the painters redo the work three times," Holcomb said. "At Fresh Coat, we are committed to providing a better experience, from start to finish. We hire professionally-trained and experienced painters, we use the best Sherwin-Williams products and we value the importance of things like clear communication, timeliness and firm quotes. That's what sets us apart."
As part of Fresh Coat's focus on service, they offer a 3-3-3 customer service pledge, so calls will be answered by a live person within three rings, a quote will be delivered within three days (customer schedule permitting) and the job will be started within three weeks. All Fresh Coat Painters employees are specially trained, dependable and background-checked and Fresh Coat Painters of Katy is bonded and insured. Fresh Coat Painters also has a national product partnership with Sherwin-Williams®.
Fresh Coat was founded in 2004 as part of Strategic Franchising Systems. Since 2015, Fresh Coat has been included in the Bond's Top 100 and named to Entrepreneur Magazine's Franchise 500 list. Fresh Coat is also part of the International Franchise Association, the Small Business Association's Franchise Registry, VetFran and Minority Fran.
For more information about Fresh Coat Painters of Katy, call (832)982-2362, email JHolcomb@FreshCoatPainters.com or visit http://www.FreshCoatPainters.com/Katy.