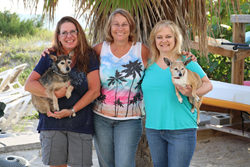 Pet Wants food is slow cooked in small batches with high-quality ingredients – not with fillers or harmful chemicals – and delivered fresh to your door. Our products can help your pets live healthier, happier lives. - Maureen Farr
TAMPA, Fla. (PRWEB) September 11, 2018
As a veteran with experience in both the veterinary and pharmaceutical industries, Maureen Farr knew if she was going to open her own business, it had to be something that helped families in her own community. Now Maureen is pleased to announce the launch of her new company, Pet Wants North Tampa.
Pet Wants' specially-crafted pet food formulas are made in small batches with fresh, natural ingredients and enhanced with vitamins and minerals for a complete and balanced diet in every bowl. Pet Wants North Tampa offers multiple blends of dog and cat food formulas as well as healing salve, calming balm, anti-itch spray, paw wax and more. Pet Wants North Tampa is a mobile business that offers free, personal delivery services to New Tampa, Wesley Chapel, Pebble Creek, Odessa, Lutz and Carrollwood.
"People are more focused than ever on living healthier lifestyles, so why should they feed fast food to their pets? Pet Wants is the health food of the animal world. Pet Wants food is slow cooked in small batches with high-quality ingredients – not with fillers or harmful chemicals – and delivered fresh to your door. Our products can help your pets live healthier, happier lives," Maureen said.
Maureen is running Pet Wants North Tampa with her two best friends, Rachelle Simonof and Carolyn Victor. Maureen is a single parent of an autistic young adult, Channing, whom she is hoping can join her in this endeavor. She is also a failed pet foster mom and ended up adopting her two foster Chihuahuas, Katie and Makai, and a Beagle named Sedona. She is also training a Great Dane, Devon, to be a service dog for her son. Rachelle is a proud pet mom owned by two Shiba Inus, Justice and Raven. Carolyn has had cats all her life and is currently enjoying two energetic rescues, Nugget and Smokey.
Maureen enlisted in the United States Air Force in 1993 and retired as a Major in 2013. In addition to owning and working with Pet Wants, she works as a contractor, flying drones overseas. She's also a certified pharmacy technician and veterinary technician, and has a Bachelor's degree in liberal studies, a Masters of Education degree and is currently working on her PhD in psychology with a health psychology emphasis. She has been volunteering with the local humane society for many years and, because of her experience as a veterinary technician, she often fosters newborn animals.
"Rachelle, Carolyn and I have been talking about going into business together and I was ready to spend more time home. I love working with animals, but I didn't want to go back into being a veterinary technician, so I started doing some research and found Pet Wants. The products, the story and the business model spoke to us and now we're excited to be able to bring Pet Wants to the people here in the North Tampa area," Maureen said.
Pet Wants has a 100-percent, money-back guarantee on the freshness and quality of the food and the company only sources the best salmon, chicken, lamb, brown rice and other ingredients available. There's no sugar added, no fillers and no animal by-products and Pet Wants never uses corn, wheat, soy or dyes, which makes the food great for animals with allergies.
To learn more about Pet Wants North Tampa, call (813)398-7387, email MFarr@PetWants.com or visit https://www.PetWantsNorthTampa.com.
About Pet Wants: Pet Wants was started by Michele Hobbs out of love for her pets and frustration. Veterinarians were unable to help relieve her dog's painful skin allergies. After doing much research, Michele discovered the national dog food brand she trusted was not fresh, not all natural, and lacked sufficient nutrition and – when pet food sits in warehouses and store shelves for months and months – it loses even more nutritional value. She was committed to developing a better solution for all dogs and cats. Their food is exclusively crafted. It's fresh, healthy and slow-cooked with no sugar added, no fillers and no animal by-products. They source only the best salmon, chicken, lamb, brown rice, and other ingredients. Fresh ingredients make for better food… and better health for pets. And since they never use corn, wheat, soy or dyes, the common pet health problems associated with these ingredients are no longer worries. Their fresh food is conveniently delivered to the customer within weeks of production, not months. Roughly half of Pet Wants products are sold through their store and half through their convenient, home-delivery program. You can learn more at http://www.PetWants.com.