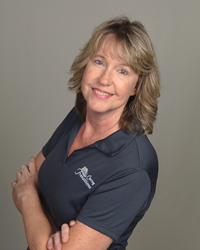 At Caring Transitions, we are here to help you get to the next chapter of your life as quickly and with as little stress as possible. Life happens, sometimes suddenly, and it's important to know you have someone to turn to. - Leigh DeVoe
PORT RICHEY, Fla. (PRWEB) November 19, 2018
Local entrepreneur and experienced business owner Leigh DeVoe is excited to announce the launch of her new senior-focused relocation and estate clearing company – Caring Transitions of West Pasco.
Caring Transitions' specially-trained professionals handle decluttering, organizing, packing, moving, resettling, in-person estate sales, and online auctions, liquidations, and preparing homes for market. While the services are tailored for seniors, they can be customized for any situation. Caring Transitions of West Pasco serves Trinity, Odessa, Hudson, Port Richey, New Port Richey, Bayonet Point and the surrounding areas.
DeVoe grew up in Michigan and worked in hotel management for 10 years in Florida before moving to North Carolina, where she owned a campground and cabin business. When she moved back to Florida, DeVoe opened a Kumon Math & Reading Center in Port Richey, which she owned and operated for 10 years. She decided to step back from being a business owner when her daughter was a young teenager so she could spend time with her family. Now that her daughter is 16 and her son is 20, DeVoe decided she was ready to get back into business.
"Owning a Kumon franchise was an excellent experience and it fueled my passion for making a positive impact. I knew, whatever I decided to do next, it had to be something that empowered me to make a difference in my community. As I was researching, I found Caring Transitions," DeVoe said. "I honestly had no idea a service like Caring Transitions existed but, the more I learned about the business, the more I realized how critically valuable Caring Transitions could be, especially for families who are spread across the country, which is common for people living in Florida. I'm looking forward to being the resource people can turn to as they face these kinds of life transitions, either themselves or with a loved one."
Caring Transitions' services are perfect for managing the many aspects of a senior move or assisting with the process of downsizing to provide a safer living situation as well as for busy families and people clearing out the home of a loved one who has moved into assisted care or passed. All of Caring Transitions' services are customizable, so clients choose the solution that best fits their needs – whether that means managing the entire move and estate-clearing, just getting someone resettled into their new place, or anything in between.
"It's hard to prepare for the time when you need to downsize, move to a better living situation or clear out an estate and, when that time comes, it often feels unexpected and rushed. I've gone through similar situations with my own family – including clearing out my grandmother's 12 room farmhouse – and I understand the challenges my clients are facing. At Caring Transitions, we are here to help you get to the next chapter of your life as quickly and with as little stress as possible. Life happens, sometimes suddenly, and it's important to know you have someone to turn to," DeVoe said.
Caring Transitions of West Pasco is bonded, insured and their W2 employees have been background checked. For additional information about Caring Transitions of West Pasco, call (727)733-4620, email LDeVoe@CaringTransitions.com or visit http://www.CaringTransitionsWestPasco.com.
About Caring Transitions
Caring Transitions, founded in 2006, is the most trusted and experienced national franchise specializing in senior relocation and transition services. With more than 200 locations throughout the United States all owned and operated by Certified Relocation and Transition Specialists, Caring Transitions provides clients with supportive moves, auctions, rightsizing and transitions. This includes expert advice plus a well-executed transition plan beginning with the initial sorting of personal belongings through packing, unpacking, resettling, selling of items to the final clearing and cleaning of the property. For more information, visit http://www.caringtransitions.com or visit us on Facebook.