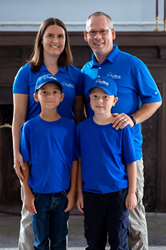 TruBlue is different for multiple reasons, but I think the most important difference is our focus on customer service. We are a professional local company backed by a national organization with a commitment to reliability, communications and quality. - Casie Leach
CHATTANOOGA, Tenn. (PRWEB) August 18, 2020
David and Casie Leach are pleased to announce the launch of their new franchise business, TruBlue Total House Care of South Chattanooga. TruBlue is a full-service home maintenance company that offers services inside and outside the home in East Brainerd, Brainerd, East Ridge and surrounding communities, as well as Marion, Dade and Walker County.
Clients looking for dependable, high-quality, individual services can hire TruBlue for handyman repairs, cleaning services, yard work, seasonal services, senior home safety services and minor home renovations. For clients looking for total house care solutions – especially seniors and busy families who want the comfort and convenience of owning a home without worrying about the maintenance hassles – TruBlue offers House Care Plus, a monthly or quarterly maintenance program. TruBlue also works with homeowners, realtors and rental property owners who need to get homes move-in ready quickly and keep them maintained as well as business clients.
"TruBlue is different for multiple reasons, but I think the most important difference is our focus on customer service. We are a professional local company backed by a national organization with a commitment to reliability, communications and quality," Casie said.
"We also understand that people need creative solutions based on their individual situations. There are times when you may want a major remodel but what you need is just just a walk in shower or a ramp to come home from rehab. We can work with you to figure out the best plan of action for your home and your needs, especially for older adults looking to age in place," David added.
David has been a nurse for the last 12 years, including seven years in home health and in-home hospice care. He also has 15 years of experience owning and managing rental homes in the area. Casie is more numbers focused and is excited about handling the operational side of the business while David works directly with clients.
"I am acutely aware of the challenges facing older homeowners and busy professionals who need reliable, quality services in and around their homes, both because of my work as a nurse and my own experience in property management. I heard about TruBlue in late November of 2019 and was immediately interested in how the opportunity combined my experience in both fields and gave Casie the opportunity to focus on her strengths as well. We are looking forward to serving people in our community," David said.
TruBlue of South Chattanooga is licensed, bonded and insured. To learn more about TruBlue of South Chattanooga, call 423-264-2340, email CLeach@TruBlueHouseCare.com or DLeach@TruBlueHouseCare.com, or visit http://www.TruBlueHouseCare.com/South-Chattanooga.