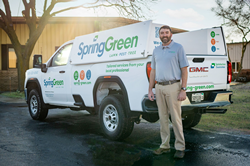 "Our team has a lot of employees who have worn the brand on their shirts and hats for many years. Being able to keep these good people with Spring Green and building them up with opportunities like my uncle did for me, is what we are all about."
FAYETTEVILLE, Ark. (PRWEB) March 01, 2023
Apple Doesn't Fall Far from the Tree
If someone has been with a company for 22 years, can you really call them a new owner? Just ask Ryan Gulley, who recently purchased his uncle's Spring Green Lawn, Pest and Tree business. In doing so, Ryan sees the opportunity to better service the existing lawn care customers and expand into pest and tree care services in the future as well.
"I believe the relationships I have already developed with my existing customers and my familiarity with the local green industry should benefit me while operating Spring Green," Gulley said. "My love for the outdoors is what inspired me to go into the lawn care industry. The resources that Spring Green provides me and my customers are amazing and made the decision to invest in the business easy."
The timing really could not be any better for Gulley to join Spring Green. According to the recent study by IBIS World Landscaping Services Industry Report, the green services industry has grown to $129 billion. What's more, the industry employs more than 1.2 million people and has grown an average of 5.3 percent since 2017.
With the continued growth in outdoor home services, Spring Green is well-positioned to be the go-to service provider for a homeowner desiring tailored services from a local professional.
"I am excited about our Spring Green future," Gulley said. "Our team has a lot of employees who have worn the brand on their shirts and hats for many years. Being able to keep these good people with Spring Green and building them up with opportunities like my uncle did for me, is what we are all about."
And Ryan had some words of advice for anyone else who might be thinking of shaking up their own status quo. "Do not ever give up on your dream," he said. "I was working for a business that was successful, but now I am going to own something with local employees and a team that can get more involved in the community. I have great experience already operating in this business, but now I have been blessed to build it for the next generation."
For more information visit
https://www.spring-green.com/lawn-care-locations/fayetteville-area-2
or call 479-521-8873.
###
About Spring-Green Lawn Care
Plainfield, Illinois-based Spring-Green has been delivering lawn, pest and tree care services nationwide since 1977. Its service is centered on the beautification of residential and commercial customers in middle-class and affluent neighborhoods and communities. Spring Green is an attractive opportunity for entrepreneurs and existing green-industry business owners who want to align themselves with a franchise opportunity that has proven economic resilience, healthy profit margins, industry-leading business and marketing intelligence, recurring revenue, and retirement and family planning through business ownership. For more information, visit http://www.springgreenfranchise.com or call 800-777-8608.