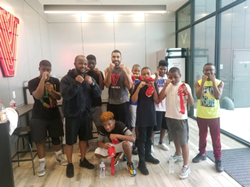 "VORTEX athletes focus on training both the body and the mind," says Rafael Sanchez, Operations Manager at VORTEX. "These young men will develop healthy self-esteem, healthy bodies, and healthy minds in a safe, non-judgmental environment where they'll be encouraged to give their best."
HOUSTON (PRWEB) February 05, 2019
Pulse-pounding pyrotechnics. Upbeat music. The slam of gloves against punching bags. The hum of the latest Stages bikes as trainers call instructions. When you step into VORTEX, Houston's newest luxury boutique fitness studio, tough neighborhoods are probably the last thing that comes to mind.
But tough neighborhoods are on the minds of the athletes behind VORTEX, as is a desire to give back to the Houston community. The result is a new partnership between VORTEX and the Urban Enrichment Institute (UEI), formerly the Fifth Ward Enrichment Program. Vortex will add new fitness programming in the interests of helping UEI forward its mission.
UEI is a youth leadership and development program for at-risk Fifth Ward males between the ages of 12 and 19. UEI's core program, "The School-Based Projects," offers a holistic approach to youth development.
The project is housed in five schools in the Houston Independent School District's Northeast District, and provides each school with on-campus mentors who are responsible for teaching participants valuable life skills. The mentors also conduct home visits and counseling sessions for individuals and groups.
The Fifth Ward is one of Houston's most economically depressed neighborhoods. Residents of this neighborhood struggle with gang violence, drug abuse, teen pregnancy, school dropout, and crime. The ability to envision or pursue a better life sometimes gets lost in the daily struggle to survive. UEI is designed to empower boys to look beyond their present circumstances, to become responsible men, and to develop into productive members of their families and communities.
VORTEX's contribution will be to host some of these young men in a free weekly RIDE or RIP (boxing) class at the studio for the duration of their school semester term. UEI will incentivise participation by selecting children for the program based on criteria such as behavior accountability in the classroom and academic success.
The RIDE class is a 45-minute indoor cycling workout combined with hand weight and core exercises. Participants get a full body workout. VORTEX's boxing class, known as RIP, is a 45-minute high-intensity boxing and strength training class.
"VORTEX athletes focus on training both the body and the mind," says Rafael Sanchez, Operations Manager at VORTEX. "These young men will develop healthy self-esteem, healthy bodies, and healthy minds in a safe, non-judgmental environment where they'll be encouraged to give their best."
Why did VORTEX seek a partnership like this one? According to Sanchez, "We believe in developing strong community ties through positive action."
This partnership is the brainchild of VORTEX Athlete Trey Blackwell, a faithful volunteer with UEI. "When I became part of the VORTEX team, I was immediately made aware of the company's philanthropic aspirations. This connection was a no-brainer. Our mission is to educate about health and fitness while equipping these young men with the tools for lifelong success. We teach them that mastery of their outward environment and circumstance begins with mastery of self and that healthy bodies promote healthy spirits. I can think of no worthier or more rewarding cause."
To learn more about VORTEX, visit http://www.vortextexas.com. To learn more about UEI, visit http://www.fwepinc.org.
CONTACT:
Larry McClellan
Larry(at)vortextexas.com
Rafael Sanchez
Rafael(at)vortextexas.com
ABOUT VORTEX
VORTEX is a luxury boutique fitness studio with a simple ethos: pure, no-holds barred, unadulterated fitness in a backdrop of absolute luxury. Leading fitness experts curate two workout concepts to help students push themselves in ways they never thought possible, to make new friends, and to enjoy an incredible space. VORTEX never judges clients on performance or physical ability: just effort, and a willingness to give 110%. Learn more at http://www.vortextexas.com.