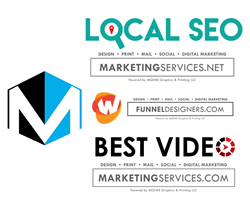 These new additions will provide even more benefits to clients with more options to expand their reach.
KENDALL PARK, N.J. (PRWEB) November 27, 2018
MGEMS Marketing is no stranger to providing affordable marketing services to the New Jersey community. They have found their niche in providing local businesses the marketing tools necessary to grow and expand. MGEMS Marketing themselves have seen growth throughout the year as well, even transitioning into another office space to accommodate their growing client base. The local marketing hub continues this growth with the launch of new partnerships and services.
The new partnerships that have emerged alongside MGEMS Marketing's new services include Web Funnel Designers, Local SEO Marketing Services, and Best Video Marketing Services. Web Funnel Designers is centered around creating functional landing pages, which will be custom built to match a client's goals and needs. Local SEO Marketing Services is centered around exactly what their name says - Local SEO. In other words, this company excels in keeping citations and local listings up to date and consistent across business listing websites such as Yelp, Yellowpages, and many more. Best Video Marketing Services is centered around the creation of versatile and professionally made video animation. These can be used for tutorials, infographics, or an introduction to a company and its services.
The flagship services of MGEMS Marketing remain unchanged, says the New Jersey marketing company. If anything, these new additions will provide even more benefits to clients with more options to expand their reach. Furthermore, they have already provided said services to some of their current clients and have seen a respectable amount of growth from each as a result.
MGEMS Marketing is currently located at a temporary office space located at 3158 State Route 27, Kendall Park, New Jersey 08824. However, they are also easy to reach by phone at 855-275-6436. Also, they are active on social media as @MGEMSMarketing on platforms like Facebook, Twitter, Instagram, LinkedIn, and Pinterest. They also encourage people to visit their website to see a full list of all their services, partner companies, and other content businesses may find helpful to use.