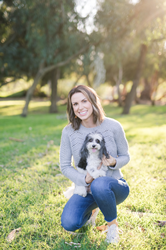 I joined Pet Wants because this company allows me to provide the freshest, most nourishing pet food to the pets in my community so they can live long, healthy lives. - Shannon Weel
MISSION VIEJO, Calif. (PRWEB) May 21, 2019
Shannon Weel, with the help of her two kids and three rescue pets, is excited to announce the launch of her new business – Pet Wants OC South.
Pet Wants' specially-crafted, private label pet food formulas are made in small batches with fresh, natural ingredients enhanced with vitamins and minerals for a complete and balanced diet in every bowl. Pet Wants OC South offers multiple blends of dog and cat food formulas as well as healing salve, calming balm, anti-itch spray, paw wax and more. Pet Wants OC South is a mobile business with free, personal delivery to Mission Viejo, Lake Forest, Foothill Ranch and the surrounding areas.
"I'm passionate about the health and happiness of animals. I joined Pet Wants because this company allows me to provide the freshest, most nourishing pet food to the pets in my community so they can live long, healthy lives. Pet Wants offers some amazing products and I'm excited to bring them to this area. There's nothing else like Pet Wants on the market," Weel said.
Pet Wants has a 100-percent, money-back guarantee on the freshness and quality of the food and the company only sources the best salmon, chicken, lamb, brown rice and other ingredients available. There's no sugar added, no fillers and no animal by-products and Pet Wants never uses corn, wheat, soy or dyes, which makes the food great for animals with allergies.
A single mom with two kids – Lily and North – Weel knew she was ready for a bigger and better career opportunity. She was interested in owning her own business, but she knew it had to be something she would be passionate about and that the family could be part of too, including her dog Roxy and her two cats, Piper and Robin. When she found Pet Wants, Weel felt that the company hit all the marks: it was about animals, nutrition and community involvement while also being flexible, exciting and family-focused.
"Pet Wants gives me the opportunity to do big things in this community as a small business owner while involving my kids and, at some level, even my pets," Weel said. "Pet Wants often starts with education – I want to get to know your pets and their individual needs so I can help you find the products that might work best for you and your family. Pet Wants is also different because of the freshness of our food. Pet Wants food is made fresh and in small batches here in the United States and many of our products are homemade. I did the food sample test with my own animals and they loved it – I can't wait to get Pet Wants food in their bowls every day. They love it and I'm thrilled to be able to bring Pet Wants to this area."
To learn more about Pet Wants OC South, call (949)215-1461, email SWeel(at)PetWants.com or visit https://www.petwants.com/ocsouth/.