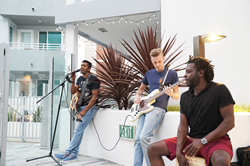 "Seeing people come out of their apartments and enjoy the first live music they've heard in two months reiterated to me how vital music is for peoples' spirits," Dilan Jay, band frontman stated.
LOS ANGELES (PRWEB) May 08, 2020
COVID-19 decimated the music industry — canceling many shows until 2021 — so like many artists, Dilan Jay resorted to online streaming to keep the music flowing. But when drummer Curtis discovered an apartment complex that wanted to bring live music to tenants from their open-space courtyard, it took zero seconds to agree.
Property managers designated space for the band to perform while adhering to social distancing, and tenants came out on their balconies to listen and dance to music. Here is a video which shows residents dancing along:
https://www.youtube.com/watch?v=r9TwXmhI-sE
With no sign of live music venues slated for re-opening, Dilan Jay is letting apartment complexes know that if they want to give live music to their tenants, social distancing measures will be honored. Dilan Jay has two albums released on Spotify, Apple Music, and Soundcloud, all songs of which were created to bring hope and good feels to listeners.