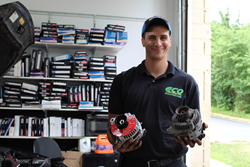 The latest of Eco Lube's innovations is a free vehicle maintenance training course for the local community.
SOUTH BRUNSWICK, N.J. (PRWEB) September 20, 2018
Eco Lube Express stands out, not just as an oil change service company, but as an all around auto service. Their upbeat attitude and honest service has carried them well over the years. As they continue to grow, Eco Lube has proven unafraid to try out new, never-before-seen ideas. The latest of these innovations is a free vehicle maintenance training course for the local community.
This training course will be hosted and taught primarily by manager Michael Puccio and the rest of the Eco Lube team. During this course, Michael hopes to educate car owners on the basics of auto maintenance. The class will cover topics such as how to check oil levels, tire pressure, dashboard lights, and essential fluids. The goal is to teach new and inexperienced drivers all the essentials in their car's owner's manual in order to be safer and smarter with their car maintenance.
A final date for this training course has been officially set for Sunday, September 30th at 3:00PM. The course is listed as "bring your own vehicle" as drivers should understand their own vehicle as a priority. Because this course is scheduled after their usual service hours, the team promises that there will be more space than usual, although slots are still heavily limited. For the time being, this is only a one time course, so future classes are not a guarantee. Thus, those interested are recommended to sign up on the Eco Lube Express Website, as well as their Facebook Event Page.
Eco Lube Express Oil Change Center is located at 3974 US Highway 1, Monmouth Junction, NJ 08852. The facility itself is accessible via two entrances: Major Road and US Highway 1 North. Otherwise, the staff can be contacted by phone call at (732) 821-3111. Online, Eco Lube Express has their official website, a Facebook page, and Instagram profile, which they invite others to engage with and follow as well.