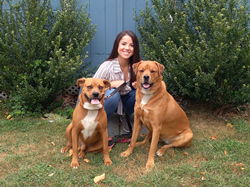 My dogs play a huge role in my life and in making me happy every day ... Pet Wants gives me a chance to really help fellow pet parents give their animals longer, healthier, happier lives. - Rosaline Hansen
NEWTON, Mass. (PRWEB) September 02, 2020
Local dog mom Rosaline Hansen is pleased to announce the launch of her business – Pet Wants Newton. Pet Wants Newton is a mobile pet food and supplies business that offers free, personal delivery through Greater Boston and the western suburbs, including Dedham, Needham, Newton, Wellesley, Acton and Concord.
Pet Wants' specially-crafted, private-label pet food formulas are made in small batches with fresh, natural ingredients enhanced with vitamins and minerals for a complete and balanced diet in every bowl, all made in the USA. Pet Wants Newton has multiple blends of dog and cat food formulas as well as healing salve, calming balm, anti-itch spray, paw wax and more.
"When we were thinking about opening Pet Wants, we got a few samples of the food. Both of my dogs absolutely loved it and my girl wouldn't eat her old food without some Pet Wants sprinkled in. I had to horde the kibble until I could get more! I am thrilled to be able to bring such a great offering of products to the Greater Boston area through Pet Wants Newton," Hansen said.
Pet Wants has a money-back guarantee on the freshness and quality of the food and the company only sources the best salmon, chicken, lamb, brown rice and other ingredients available. There's no sugar added, no fillers and no animal by-products and Pet Wants never uses corn, wheat, soy or dyes, which makes the food great for animals with allergies.
Rosaline, a Massachusetts native, has a background in sales and marketing, mostly in the wine industry. She and her husband, Randy, have two rescue pups – a four-year-old Golden/Lab mix (and mommy's girl) named Luna, and a 2-year-old Boxer/Lab mix (and daddy's boy) named Loial. Both Rosaline and Randy have had dogs for most of their lives and are looking forward to helping animals through Pet Wants.
"I'm a crazy dog mom and Randy and I loved the idea of having a family business, which led us to Pet Wants," Hansen said. "My dogs play a huge role in my life and in making me happy every day. I have been a long-time donor to the ASPCA and Humane Society, but now I am excited to use my business skills to help pets in another way. Pet Wants gives me a chance to really help fellow pet parents give their animals longer, healthier, happier lives."
To learn more about Pet Wants Newton, call 781-467-6958, email RHansen@PetWants.com or visit http://www.PetWants.com/Newton.