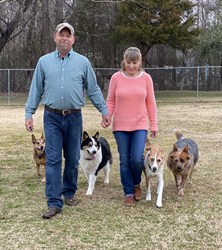 Our pets are our passion – they are members of our family – and we want to make sure they are getting the nutrition they need to live long, healthy lives. With Pet Wants, we know exactly when the food was made, what's in it, what's not in it and what makes each blend different. - Michael Brown
LITTLE ROCK, Ark. (PRWEB) February 13, 2020
When Michael and Melissa Brown tried to find the right dog food for their five rescue dogs, they came face to face with the confusing world of pet nutrition. They knew they didn't want something packed with fillers and preservatives – they'd already lost two dogs to cancer – but even the higher quality food was stale and losing nutrients sitting on a shelf at the pet store.
After finding Pet Wants for their own dogs, the husband-and-wife team are now pleased to announce the launch of their new pet food and supplies business – Pet Wants North Little Rock. Pet Wants North Little Rock is a mobile business that offers free, personal delivery to North Little Rock, Sherwood, Maumelle, Jacksonville, Cabot and the surrounding areas.
"Our pets are our passion – they are members of our family – and we want to make sure they are getting the nutrition they need to live long, healthy lives. With Pet Wants, we know exactly when the food was made, what's in it, what's not in it and what makes each blend different. After learning about Pet Wants, we wanted to make the food and products available to others in our community, which is why we opened Pet Wants North Little Rock," Michael said.
Pet Wants' specially-crafted, private-label pet food formulas are made in small batches with fresh, natural ingredients enhanced with vitamins and minerals for a complete and balanced diet in every bowl. Pet Wants North Little Rock has multiple blends of dog and cat food formulas as well as healing salve, calming balm, anti-itch spray, paw wax and more.
Pet Wants has a money-back guarantee on the freshness and quality of the food and the company only sources the best salmon, chicken, lamb, brown rice and other ingredients available. There's no sugar added, no fillers and no animal by-products and Pet Wants never uses corn, wheat, soy or dyes, which makes the food great for animals with allergies.
Michael and Melissa have lived in Cabot since 2005 and they have both been in the medical field for more than 15 years. They currently have five rescue dogs – Hunter (12), Piper (10), Mason (8), Daisy Mae (6) and Lucy (3). They had two additional dogs, Callie and Sterling, who died of cancer within the last few years.
"We were both ready for a career change and, knowing what we know about losing animals to cancer and the importance of quality nutrition, Pet Wants was the perfect fit. We are looking forward to spending more time with our animals and serving the community in a new way," Melissa said.
"We would adopt every rescue pet if we had enough space. With Pet Wants North Little Rock, we have an opportunity to make a positive impact on the animals in this area," Michael added.
To learn more about Pet Wants North Little Rock, call 501-424-7606, email MBrown@PetWants.com or visit https://www.petwants.com/northlittlerock.