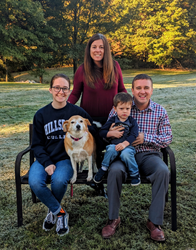 We all care about our animals and nutrition is a huge part of their lives. People are thinking about fresher, healthier foods, both for themselves and for their pets, and Pet Wants is here to help. - Lynette Morris
ST. LOUIS (PRWEB) November 14, 2018
Lynette Morris and Nick Linnemeier have always been passionate about animals and – as the pet parents of 3 dogs, 2 horses and 3 ponies – they know a thing or two about the challenges of finding the right pet food. Now the two, and their pets, are pleased to announce that they've found a pet food and supply company they love and they're bringing it to the St. Louis area with their new business, Pet Wants St. Louis West.
Pet Wants' specially-crafted, proprietary pet food formulas are made in small batches with fresh, natural ingredients enhanced with vitamins and minerals for a complete and balanced diet in every bowl. Pet Wants St. Louis West offers multiple blends of dog and cat food formulas as well as healing salve, calming balm, anti-itch spray, paw wax and more. Pet Wants St. Louis West is a mobile business that offers free, personal delivery to the entire St. Louis Metropolitan and Metro East areas.
Lynette has a daughter in college, Emily, and she and Nick have a 3-year-old son named Jack. They have three dogs (a 6-year-old chocolate lab named Ted, a 5-year-old Great Dane named Russell and an 8-year-old Beagle mix named Dixie), two horses (21-year-old Ransom and 4-year-old Tucker), and three ponies (6-year-old Nadine, 4-year-old Benji and 1-year-old Bixby Von Ridem). Most of their animals are rescues.
"We all care about our animals and nutrition is a huge part of their lives. People are thinking about fresher, healthier foods, both for themselves and for their pets, and Pet Wants is here to help," Morris said. "In addition to the physical products we carry, Pet Wants is different because you're working with us, the business owners, and we know our products inside and out. We don't want to just sell you something. We want to learn about your individual pets, help you understand pet food and what makes ours different, and then work with you to see what products might be best for your animals. It's a much more personal touch than going to the pet store and buying the same bag you've always bought."
Pet Wants has a 100-percent, money-back guarantee on the freshness and quality of the food and the company only sources the best salmon, chicken, lamb, brown rice and other ingredients available. There's no sugar added, no fillers and no animal by-products and Pet Wants never uses corn, wheat, soy or dyes, which makes the food great for animals with allergies.
Lynette, who grew up in Southern Illinois, is a nurse by trade and she has worked in home health, hemodialysis, long-term care and the operating room. Lynette has been in medical sales for 20 years and she and Nick are both part-owners of a wound care company called Direct Medical in addition to Pet Wants. Nick, who also grew up in Southern Illinois, has been in sales for the last 15 years – first at a family-owned printing business and then in wound care sales. He and Lynette were looking for an opportunity related to pets – and a new pet food – when they came across Pet Wants.
"I am very serious about what foods I eat, but I never thought that much about what we were feeding our dogs. When Lynette and I came across Pet Wants on Facebook and learned about their food, we instantly loved the idea. We are looking forward to helping pet families learn more about pet food and then make the best decisions for their pet's nutrition," Nick said.
"We know we can't rescue every animal, so the next best thing to is to be out in the community meeting pets and pet parents and helping animals live the healthiest lives possible," Lynette added.
To learn more about Pet Wants St. Louis West, call (314)813-9949, email LMorris@PetWants.com or visit http://www.PetWantsStLouisWest.com.
About Pet Wants:
Pet Wants was founded in Cincinnati in 2010 to bring fresh, natural and conveniently-delivered pet food to pet families. Their mission is to enhance the health, vitality and life of pets with high-quality food and honest advice from a Pet Nutrition Specialist on staff at each location. Pet Wants pet food is personally delivered to homes within weeks of being made, at the height of freshness. Their food doesn't sit in warehouses and on store shelves for many months getting stale and losing nutritional value like it does for most mass-produced, national brands. Pet Wants' private label pet food formulas are slow-cooked in small batches with fresh, natural ingredients and enhanced with vitamins and minerals for a complete and balanced meal. Pet Wants only uses high-quality proteins and never uses added sugar, fillers, animal by-products, corn, wheat, soy or dyes. Pet Wants offers multiple blends of dog and cat food formulas as well as healing salve, calming balm, anti-itch spray, paw wax and more. Through an investment and guidance from Franchise Funding Group, Pet Wants expanded into a national franchise in 2015 and grew to nearly 100 locations within just three years. Learn more about Pet Wants at http://www.PetWants.com or how to become a Pet Wants franchise owner at http://www.PetWantsFranchise.com.