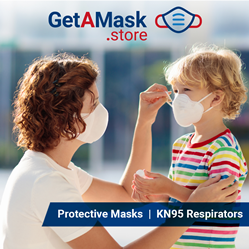 RED BANK, N.J. (PRWEB) April 17, 2020
#DoWhatYouCan – that's the message that Trinity Dominion LLC, a real estate development company located at the Jersey Shore, would like to send after launching its newest social initiative. GetAMask.store seeks to help protect local community members, especially those serving on the frontlines, by offering personal protective equipment through an online website. The site launched on April 16 and is currently accepting orders and donations for PPE, such as disposable protective masks and KN95 filtering facepiece respirators.
"After the CDC's recent recommendation to wear face coverings in public settings to slow the spread of COVID-19 and the current widespread shortage of PPE, we knew we had to do our part to protect our family, friends and the community, said Rimvis Mati, CEO of Trinity Dominion LLC. "We have started this initiative by utilizing our contacts overseas to import much-needed PPE supplies directly to our community, while also giving back to our local partners and frontline workers."
Those interested can purchase face masks, safety masks, KN95 respirators and other personal protective equipment (PPE) for yourself or purchase to donate these supplies to those on the frontlines by visiting GetAMask.store. "Our frontline workers are our most valuable asset and are uniquely vulnerable to the virus," said Mati. "Let's offer our appreciation by providing them with the PPE they need. All you have to do is purchase to donate through our website. Trinity Dominion will facilitate all the logistics and deliver the PPE directly to those on the frontlines."
GetAMask.store is currently only shipping to the following states: Connecticut, Delaware, Massachusetts, Maryland, New Jersey, New York, Pennsylvania and Vermont. Orders over $50 will ship free. Once orders are placed, they will ship based on the timeline noted in the online store – typically within 3-5 business days with 1-2-day shipping.
"I am humbled by the opportunity to be able to help the community during these unprecedented times," said Mati. "We invite you to #DoWhatYouCan to help others, too."
For questions regarding PPE, GetAMask.store customer service representatives are available Monday through Friday from 9am to 6pm and Saturday to Sunday from 10am to 4pm by calling 848-206-6398 or emailing sales@GetAMask.store.
About Trinity Dominion LLC
With over 150 years of joint experience, Trinity Dominion's mission is to create spaces that combine comfort and convenience, and put its customers' needs at the heart of modern home design. Trinity Dominion is a member of the National Association of Home Builders, the New Jersey Builders Association and the Shore Builders Association of Central NJ, Inc. To learn more, visit https://www.trinitydominion.com.