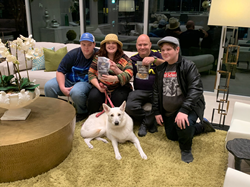 Nutrition makes a big impact on the health of our pets and, at Pet Wants, we believe feeding them high-quality food is the key to helping them live longer, healthier lives. Pet Wants is unique because our food is nutritious and fresh as well as conveniently delivered. - Shannon Neal
PEARLAND, Texas (PRWEB) December 16, 2019
Local residents Shannon Neal and Ross Davidson are pleased to announce the launch of their new local pet food and supply company, Pet Wants Pearland.
Pet Wants' specially-crafted, private-label pet food formulas are made in small batches with fresh, natural ingredients enhanced with vitamins and minerals for a complete and balanced diet in every bowl. Pet Wants Pearland has multiple blends of dog and cat food formulas as well as healing salve, calming balm, anti-itch spray, paw wax and more. Pet Wants Pearland is a mobile business that offers free, personal delivery throughout the Pearland area.
"Nutrition makes a big impact on the health of our pets and, at Pet Wants, we believe feeding them high-quality food is the key to helping them live longer, healthier lives. Pet Wants is unique because our food is nutritious and fresh as well as conveniently delivered. We're looking forward to offering Pet Wants food, treats and other products to pet families in our area," Neal said.
Pet Wants has a money-back guarantee on the freshness and quality of the food and the company only sources the best salmon, chicken, lamb, brown rice and other ingredients available. There's no sugar added, no fillers and no animal by-products and Pet Wants never uses corn, wheat, soy or dyes, which makes the food great for animals with allergies.
Neal has three sons (Caleb, Noah and Jacob) and Davidson has three daughters (Grace, Alexandra and Audrey). Their furry children include a rescue cat named Gul Dukat, a rescue German Shepherd named Stahma and three slithering snake pets –Plissken, Lady Sif and Bella.
Davidson has a PhD in biological chemistry and earned a law degree from the University of Houston Law School. Davidson has scientific working knowledge in bio-chem pharmaceuticals and experience with nutritional supplement litigation cases. Neal has been a teacher for more than 15 years, including many years in special education and working with autistic students. Neal volunteers with animal shelters, Relay for Life and a Houston therapeutic horse program for people who are autistic.
"At Pet Wants, we found a path that allows us to work with animals and to work as a family, including our son with autism. We are looking forward to meeting you and growing together through Pet Wants," Neal said.
To learn more about Pet Wants Pearland, call 832-457-7750, email ShannonNeal@PetWants.com or visit http://www.PetWants.com/Pearland.