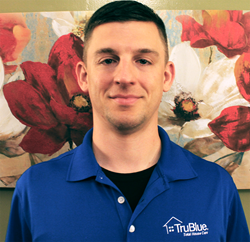 TruBlue is a business everyone can use. We all have homes and they all have projects of some kind, whether it's a small honey-do list item you haven't gotten to yet, a larger renovation project or an ongoing need for cleaning or lawn care services. - Jake Prewitt
WEST CHESTER, Ohio (PRWEB) October 11, 2018
Local Army veteran and experienced business and operations leader Jake Prewitt is pleased to announce the launch of his new business, TruBlue of West Chester.
TruBlue offers handyman services, house cleaning services, emergency repairs, seasonal projects, yard/lawn care, a home watch program, a senior accessibility program and more. TruBlue is a great option for busy families and seniors who want the comforts of their own home without worrying about property maintenance.
TruBlue also works with homeowners, realtors and rental property owners who need to quickly get homes move-in ready and keep them maintained and, in addition, offers commercial services for business clients.
TruBlue of West Chester serves West Chester, Maineville, Landen, Kings Mills, Sharonville, Wyoming, Sixteen Mile Stand, Kenwood, Amberley Village, Pleasant Ridge, Oakley and the surrounding areas.
"TruBlue is a business everyone can use. We all have homes and they all have projects of some kind, whether it's a small honey-do list item you haven't gotten to yet, a larger renovation project or an ongoing need for cleaning or lawn care services. I felt there was a deep need in this community for a company like TruBlue of West Chester. When you work with TruBlue, one call does it all. We can take care of your home, top to bottom, inside and out, and we really care about you, the customer, not just the bottom line. Any decisions or recommendations we make are going to be with your best interest in mind because we want you to call us next time too," Prewitt said.
To assist those with ongoing home care needs or who want to take property management off their plates entirely, TruBlue recently rolled out a monthly house care program, which enables clients to contract with a local TruBlue office to do everything from regular seasonal property maintenance to monthly maid services and yard work. While these services are great for anyone, they are especially helpful for seniors who want to age in place in a safe and comfortable home as well as busy families and those caring for older family members.
Prewitt has an extensive background in human resources, operations and business management, which all started when he served in the United States Army. He was deployed overseas several times, including two tours in Iraq. After leaving the military, Prewitt earned his business management degree with a minor in economics and went to work as a pay analyst before taking a job with Kroger as a production supervisor and then moving into operations management with Kohls' e-commerce team.
"When I was with the Army, I had the opportunity to help soldiers excel at their jobs as their human resources support. That's the kind of work I've always enjoyed – leading successful teams by working with great people and giving them the opportunity to do their very best work. The corporate world wasn't giving me that opportunity, so I decided it was time to make a change," Prewitt said. "TruBlue is a great franchise opportunity because it allows me to develop and support the kind of excellent, trustworthy team I want to give my clients to help them enjoy their homes more. I'm looking forward to bringing TruBlue to this area."
Prewitt launched TruBlue of West Chester with the support of his wife, Jennifer Millard, daughter, Grace, and four fur babies.
All TruBlue employees are licensed, bonded and insured. To learn more about TruBlue of West Chester, call (513)999-2744, email WestChester(at)TruBlueHouseCare.com or visit http://www.TruBlueWestChester.com.
About TruBlue
TruBlue provides one convenient and affordable solution for all your house care needs – inside and out. TruBlue's services include house cleaning, household repairs, yard work, emergency repairs and seasonal work, all handled by a personal House Care Manager. These affordable services are available year-round and customized to meet your needs and budget. TruBlue strives to provide affordable, worry-free living for seniors and hassle-free living for busy adults with the goal of eliminating the worries, hassles and headaches of home maintenance by providing full-service, trustworthy house care services. TruBlue even offers owners financing for the larger remodeling and property projects. Watch for TruBlue to the Rescue projects which are designed to reach out to neighbors in need of volunteer assistance.