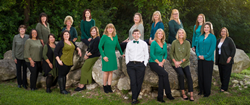 Waco, TX (PRWEB) January 25, 2019
Drs. Donna G. Miller, Michelle Hinds and Austin Green of Creekwood Dental Arts have proudly announced that they and the rest of their team have been utilizing the Total Health Academy's education program for one full year and are now implementing this approach to dentistry at their practice. This series of multi-faceted educational offerings concentrates on integrating all aspects of patient wellness into dentistry. The Total Health Academy offers 37 training modules to build a better understanding of ways that optimal oral health can lead to better systemic health.
Featuring a holistic approach, the system helps dental professionals to better serve patients with tooth decay, gum disease and other common issues. Gum disease is a prime example of the way that a condition of the mouth can have effects on the rest of the body. Because gum disease is an infection, it can quickly spread throughout the bloodstream. Many studies have linked gum disease with higher risk of cardiovascular disease, uncontrolled diabetes, and certain cancers.
Similarly, TMD, or temporomandibular joint disorder, can affect more than just discomfort of the mouth. Many TMD sufferers live with chronic headaches, neck pain, shoulder pain and rapid molar tooth fractures from TMD-related bruxism behaviors.
As Waco, TX dentists, serving patients for many years, Drs. Miller, Hinds and Green appreciate the type of integrated treatment fostered by the Total Health Academy curricula. In addition to the Total Health Academy's education program, they have accumulated countless hours of continuing education credits as part of their mission to bring patients top-notch services and treatment options.
Individuals and families seeking to partner with a dentist in Waco, TX, who believes in integrated medicine are encouraged to call Creekwood Dental Arts at 254-870-9026 for an appointment with Drs. Miller, Hinds and Green.
About the Dentists
Creekwood Dental Arts is a general dental practice offering personalized dental care to patients in Waco, TX. Drs. Donna G. Miller, Michelle Hinds and Austin Green provide an array of services with state-of-the-art technology. Dr. Miller was honored to receive The Mastership Award from the Academy of General Dentistry, the highest and most respected award in general dentistry. To learn more about Drs. Miller, Hinds and Green or the services they offer, please visit their website at CreekwoodDentalArts.com or call 254-870-9026 to schedule an appointment.