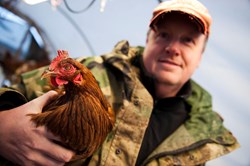 "We are blown away," said Jason Amundsen, co-owner of the company. "Literally, everything we have as a family is invested in this farm. To have that vision of an environmentally focused kind of agriculture lifted up to this national level is just wild."
Duluth, MN (PRWEB) November 11, 2013
Locally Laid Egg Company, Minnesota's only commercial-scale pasture-raised egg business, has advanced to the Final 4 in Intuit's Small Business Big Game contest. If selected as the winner by popular voting, the company will receive a television commercial during football's biggest game, February 2, 2014.
Intuit, makers of QuickBooks, had well over 15,000 business entrants in the contest and, after several rounds, whittled it down to four finalists.
Locally Laid immediately posted this video announcement to its social media sites, showing Farmer Jason Amundsen telling the company's chickens, all named LoLa after the company's acronym, the good news.
"We are blown away," said Jason Amundsen, co-owner of the company. "Literally, everything we have as a family is invested in this farm. To have that vision of an environmentally focused kind of agriculture lifted up to this national level is just wild."
The Amundsen family found out they were in the Final 4 when a limo arrived at their farm last week with several Intuit employees and Bill Rancic, television host and winner of the first season of Donald Trump's reality show, The Apprentice.
"It was wet, cold and muddy out on the pasture and our surprise guests could not have been more gracious," said Lucie Amundsen, co-owner of Locally Laid. "They came into the paddocks, picked up chickens and asked great questions about the way we farm. I'm pretty sure some of them had to throw out their shoes after."
Tens of thousands of companies entered the contest, which began in August. 15,000 advanced to the contest's second round, which required 4 essays and an introduction video. The third round, voted on by thousands of Intuit employees, brought forward only 20 small businesses. Today's announcement named the Final 4: GoldieBlox, CA; Barley Labs, NC; Dairypoop.com, ID; and Locally Laid Egg Company, MN.
The final round will be determined by public Internet voting starting today and running until December 1, when the winner of the nationally televised Big Game commercial will be announced. To learn more about the finalists and cast your vote, go to http://www.votelola.com.
About Locally Laid Egg Company
Locally Laid is a family-run farm in Wrenshall, Minnesota, located just outside of Duluth. LoLa is the acronym for Locally Laid and also the name of each of the 2,500 chickens on pasture at the farm. The company believes in getting people real food, while treating livestock and the planet well in the process. Locally Laid eggs are available at select grocery stores in Minnesota's Northland, the Twin Cities and Western Wisconsin, as well as multiple restaurants in the Duluth and Twin Cities areas. The company partners with a farm in Iowa that produces Locally Laid eggs to its pasture-raised standards, and is announcing a new Midwest farm in mid-November. Locally Laid also has a line of chicken feed for backyard hens called LoLa's Layer Mix. For more information, visit http://www.locallylaid.com.
To learn more about Intuit's Small Business Big Game contest, visit http://www.smallbusinessbiggame.com.