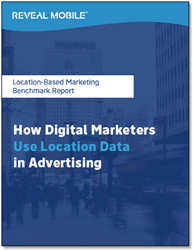 RALEIGH, N.C. (PRWEB) August 27, 2020
Reveal Mobile has conducted a groundbreaking study that shows how digital agencies and consumer brands across a wide range of market segments use location-based marketing and geotargeted advertising.
The first of its kind, the Location-Based Marketing Benchmark Report covers more than ten aspects of location-based marketing, focusing on market verticals, channels, key metrics, benchmarks, and trends that define the practice.
A few of the insights covered in the report:

top verticals for geotargeted ads by activity
average CPM for geotargeted audiences
average cost-per-click for geotargeted audiences
top performing calls-to-action for geotargeted ads
how COVID-19 has affected location-based marketing
Location-based marketing is an evolving practice. According to eMarketer, investment in geotargeted ads is growing at 40 percent, making it one of the fastest growing areas of digital marketing. During the COVID-19 pandemic, marketers have continued to invest heavily in geotargeting and geofencing. IAB research shows a heavy migration toward geotargeting during the pandemic.
"The first ever Location-Based Marketing Benchmark Report provides unprecedented insights into how digital marketers use location data across the United States," said Dan Dillon, vice president of marketing at Reveal Mobile. "As advertisers work to bring shoppers back into stores and grow their ecommerce presence, they need to know what success looks like when it comes to geotargeting -- right down to the building level. This report gives that insight."
The full report can be accessed here. There is no webform to complete, so the report can be easily shared and cited. An executive summary of the report can be accessed on Reveal Mobile's blog.
About Reveal Mobile
Reveal Mobile is a leader in location-based marketing, analytics, audiences, and attribution. Creator of VISIT Local, VISIT Match and VISIT Data, the company's products help digital agencies, brands and retailers of any size leverage location data to understand and reach the right audiences. Reveal Mobile is CCPA compliant and a member of the Network Advertising Initiative, which conducts an annual privacy certification. The company is based in Raleigh, NC. For more information, visit https://revealmobile.com.