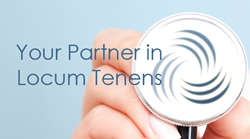 Irving, TX (PRWEB) April 25, 2014
Consilium Staffing, your partner in locum tenens, promoted four team members in the month of April.
The four promotions were announced during Consilium's March "Win Meeting," Consilium's monthly celebration of individual and team accomplishments and "wins." Hamilton Doty was promoted from Senior Client Sales Consultant to Director of Client Sales, Jason Smith was promoted from Senior Account Manager to Director of Account Management, Christian Hall was promoted from Senior Recruiting Consultant to Director of Recruiting, and Brook Hamrick was promoted from Corporate Recruiter to Corporate Recruiting Manager.
"These are four of our superstars and each one of them more than deserved the promotion," said Consilium Executive Vice President, Matt Baade. "I love seeing our people achieve promotions and advance their careers, and it is further evidence of the rapid growth that we are experiencing here. This is a great time to be part of Consilium."
Consilium Staffing anticipates many more promotions in 2014, and continues to look for extremely motivated individuals to add to the team. Those interested in joining the Consilium team can view and apply to career opportunities at Consilium's career page.
Consilium Staffing is a locum tenens staffing firm based in the Dallas/Fort Worth area. The term, "locum tenens" is a Latin phrase meaning to "hold the place of." Consilium Staffing assists hospitals, primary care offices, urgent care centers, correctional institutions, and other healthcare facilities, when those facilities are under-staffed by partnering with physicians, nurse practitioners, and/or physician assistants who are able to provide coverage on a temporary or contract basis.