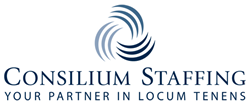 We believe that our people are our greatest asset. There are no secrets in this industry; it really is about people and relationships, and we believe we have the best people.
Irving, TX (PRWEB) February 27, 2014
Consilium Staffing, Your Partner in Locum Tenens, announced three promotions and presented their Annual Awards, including the prestigious "Servant Leader of the Year" award on January 31, during their 2014 Annual Meeting. The half-day event was a celebration of the tremendous growth the company experienced in 2013 and an opportunity to acknowledge the individuals within the organization who made that growth possible.
Keeping with the company's core value of "service," the most prestigious award of the afternoon was the "Servant Leader of the Year" award which was presented to John Moberly, a Vice President and Partner at Consilium. The award is intended to highlight an influential person who exhibits a selfless mentality, who embodies Consilium's Core Values and who is respected by the entire organization.
"John leads by example every day and would do anything to help anyone within the organization," said Consilium Executive Vice President Matt Baade. "There is no doubt that John was our 'Servant Leader' of the year and you could see that in the reaction from the company and the standing ovation he received when the award was presented. It really was an inspirational moment for all of us."
Commenting on his award, Moberly stated, "Being the recipient of this award was one of the most humbling experiences of my life. To be recognized by my peers in this fashion truly was a defining moment for me. What is remarkable to me is how the selfless mentality has embodied the DNA of Consilium."
Three promotions were announced at the meeting. Hamilton Doty was promoted from Client Sales Consultant to Senior Client Sales Consultant; Jenelle Zornes-Bona was promoted from Recruiting Consultant to Senior Recruiting Consultant; and Byron Talley was promoted from Account Manager to Senior Account Manager. Doty, was also named Client Sales Consultant of the year. "I am excited to be a part of Consilium because I know that every day I am with an organization that makes a commitment to working hard and creating an environment of teamwork and success," said Doty.
Within Consilium's recruiting department, Tinley Treadway was named Recruiter of the year. "Tinley has been our most consistent recruiter since the day we opened for business," said Kyle Etter, a Vice President and Partner at Consilium. "I cannot say enough about what Tinley means to us. She brings enthusiasm, humor, and results, and no one cares more about their candidates than Tinley. We are blessed to have her."
Landon Webb was named Account Manager of the year, as he led the Account Management department for the third consecutive year. "There is a reason we call this guy 'Mr. Consilium'," said Etter. "No one works harder than Landon, and really, no one gets better results."
For the first time, Consilium presented an award called "The Apprentice", an honor going to an individual new to the business who has demonstrated a strong work ethic, a commitment to company objectives and values, and who has shown an ability to quickly learn and excel within the business. Talley, who was also promoted to Senior Account Manager, earned the inaugural title of "The Apprentice."
"Byron came to us from UC-Davis where he was a teacher and track coach, and I knew when we interviewed him that he had the make-up to do some incredible things," said Baade. "He has met those expectations, and exceeded them, and this award was very well deserved."
Consilium also had two special awards in their operations departments. Jessica Ferguson was named the Provider Operations Champion. Ferguson is in charge of logistics for our physicians and she has gone above and beyond within the organization. Greg Ellis received the Corporate Operations Champion Award. Greg has been coined the "go-to guy" at Consilium for his selfless willingness to wear any hat, and take on any task the company asks of him. These are just a few examples of the service minded professionals that we have at Consilium. "I feel incredibly blessed to work with people who truly care about our physicians and clients both internal and external," said Monique Degraauw, CFO.
"We believe that our people are our greatest asset. There are no secrets in this industry; it really is about people and relationships, and we believe we have the best people. We have people who are willing to work hard and who are committed to serving our clients, healthcare facilities, and our physicians," said Baade. "Today was a celebration of those people, the service we provide, and the success we have experienced together."
Consilium Staffing is a locum tenens staffing firm based in the Dallas/Fort Worth area. The term, "locum tenens" is a Latin phrase meaning to "hold the place of." Consilium Staffing assists hospitals, primary care offices, urgent care centers, correctional institutions, and other healthcare facilities, when those facilities are under-staffed by partnering with physicians, nurse practitioners, and/or physician assistants who are able to provide coverage on a temporary or contract basis.