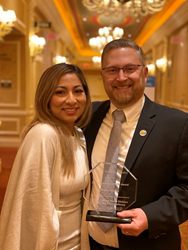 All of us at Logic Integration are absolutely elated to have earned this award and to be honored on CES's international stage
LAS VEGAS (PRWEB) January 09, 2020
Shawn Hansson, CEO and Founder of Logic Integration, designer and installer of audiovisual (AV) systems, was awarded the Annual Leadership Award at the Mark of Excellence awards ceremony by the Consumer Technology Association (CTA) during International CES. Recognizing Hansson's contributions and accomplishments to the technology industry, CTA's Smart Home Division selected Hansson as the winner of the 2020 Smart Home Leadership Award.
"All of us at Logic Integration are absolutely elated to have earned this award and to be honored on CES's international stage," said Hansson. "My talented team has worked very hard over the past decade to achieve excellence and I would like to thank each of them for their many contributions. Being able to entrust the team with daily operations afforded me the opportunity to volunteer and invest in our growing industry."
To learn about Hansson's contributions to the integrated technologies industry and his predictions on where it's headed, visit 2020 Smart Home Leadership Award Winner Logic Integration.
To learn more about CTA Mark of Excellence awards, visit https://www.cta.tech/Events/Awards/Mark-of-Excellence-Awards.aspx
About Logic Integration
Logic designs and installs state-of-the-art automation systems for corporate, government, hospitality, retail, health and fitness facilities, private residences and MDUs. They are proven leaders in automating audio, video, lighting, shades, and environmental controls into one interface and are known for their wicked-fast response times, reliable systems, excellent customer service and award-winning designs!
Since the company's inception in 2004, Logic Integration has received numerous accolades. These include recognition as a multi-year honoree of the Inc. 500/5000 "Fastest Growing Companies in the US", recently voted multi-year "Best AV Company in Colorado", "Colorado Companies to Watch" winner, "Colorado's Top 250 Private Companies," CEDIA's "Contractor of the Year" and "Integrator of the Year" by the Consumer Technology Association at CES Vegas. Some of Logic Integration's clients include Frontier Airlines, Furniture Row, Comcast, Dish Network, Lockheed Martin, US Army, US Air force, Denver Broncos, and many Fortune 100/500 companies and government entities.
To learn more about Logic Integration, please visit http://www.logicav.net