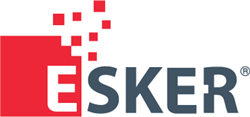 "The most impressive part of this project is Esker's remarkable capacity to add new customers and manage them without any disruption to our operations"
MIDDLETON, Wis. (PRWEB) June 25, 2019
Esker, a worldwide leader in process automation solutions and pioneer in cloud computing, today announced that Logista Pharma, an independent distributor of pharmaceutical products in Spain and Portugal, has chosen Esker to automate its order management process. Esker's AI-driven Order Management solution has enabled Logista Pharma's customer service department to improve customer response times, reduce errors associated with manual data entry, and achieve full control and visibility over order received via any channel.
Esker's solution offers a series of features designed specifically for the pharmaceutical sector, including:

Conversion of quantities ordered to formats that the laboratory offers (e.g., units, tablets, bags, etc.)
Specific workflow for orders sent to prisons
Order splitting by type of material: lines from the original order are grouped into a new order by destination or product type (e.g., hazardous, refrigerated, regulated, etc.)
Automatic material mapping between SAP® system's master data and the national code, hospital code or EAN
Classification by customer type (e.g., hospital, wholesaler, pharmacy, etc.)
Hospital order management: daily orders containing only a few line items
Wholesaler order management: weekly orders with a larger number of line items
Pharmacy order management: orders received by sales reps or the central office and forwarded by email to Logista Pharma's customer service
"The most impressive part of this project is Esker's remarkable capacity to add new customers and manage them without any disruption to our operations," said Irene Ballesteros, Channel Customer Service Manager at Logista Pharma. "A new laboratory customer can be set up in less than two days. We are experiencing monthly volume increases without any problems."
Within just a few months of implementation, Esker has enabled Logista Pharma to achieve:
Cost savings: Process optimization and control across the entire process has led to reduced operating costs.
Fewer errors: The elimination of manual data entry has reduced errors, which has resulted in fewer customer complaints.
Faster order management: With automation, order processing is now three times faster.
Focus on customer service quality: Automation of repetitive tasks allows staff members more time for customers.
Increased operating capacity: Real-time task distribution is agile and the company is able to react quickly in the event of contingencies (e.g., special orders, employee absences for vacation or sick -leave).
Supported growth: With more free time available and easy customer onboarding, the customer service department can serve a growing customer base.
About Logista Pharma
Logista Pharma is an independent distributor of pharmaceutical products in Spain and Portugal. The company is part of the Logista Group which provides logistics services for products including tobacco-related, convenience, e-transactions, pharmaceutical, books, publications and lottery. Logista Pharma offers the pharmaceutical industry the possibility of managing order reception, processing and delivery.
About Esker
Esker is a worldwide leader in cloud-based document process automation software, helping financial and customer service departments digitally transform their purchase-to-pay (P2P) and order-to-cash (O2C cycles. Used by more than 6,000 companies worldwide, Esker's solutions incorporate technologies like artificial intelligence (AI) to drive increased productivity, enhanced visibility, reduced fraud risk, and improved collaboration with customers, suppliers and internally. Esker operates in North America, Latin America, Europe and Asia Pacific with global headquarters in Lyon, France, and U.S. headquarters in Madison, Wisconsin. For more information on Esker and its solutions, visit http://www.esker.com. Follow Esker on Twitter @EskerInc and join the conversation on the Esker blog at blog.esker.com.