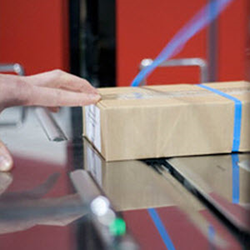 By implementing DocPath, the logistics operator was able to reduce to a minimum the amount of manual administrative tasks related to the delivery notes
Suwanee, GA (PRWEB) October 21, 2014
Two Companies, One Goal
The project involved two large organizations: an important logistics operator and a multinational company specialized in technology. Its recent swift and on-time conclusion marked an important milestone in streamlining the company's logistic processes.
The logistics operator was founded in 1938 in Korea and currently operates in 220 countries and regions around the world, employing over 285,000 workers and applying a variety of means of transport in its logistics services. The operator´s main office in Spain manages all of the technological company´s business documentation and related activities.
Document Immobility
Managing preprinted delivery notes in an efficient and structured manner is a challenge for any company. It is precisely this area that caught the attention of both companies and made them decide to look for a way to drastically optimize the corresponding logistics processes.
Before DocPath´s document management technology was implemented, returning preprinted delivery notes with a proper signature and seal, to sort and store them manually or digitize them to be able to send them electronically, was, without a doubt, a very long logistics process that involved a great number of employees. They not only had to perform all these tasks manually, but also needed to ensure that all delivery notes were duly stored for the minimum period established by Law.
Adapting to Customer Requirements
By implementing DocPath, the logistics operator was able to reduce to a minimum the amount of manual administrative tasks related to the delivery notes of the technological company. The greatly optimized logistics processes and the project´s positive results are behind the operator´s decision to extend the new logistics system to its offices in Spain, where the company has around 7,500 employees and provides its logistics services to more than 100,000 customers.
Secure Access
DocPath´s success is based on advanced designs of dynamic documents that use static data from previously used forms. As such, the logistics project was divided into two phases:
-In a first phase, the delivery notes were generated with a coding system and processed automatically. The powerful generation engine of DocPath´s document management solution was used to create documents in PDF format. As a result, preprinted delivery notes and the need of matrix printers disappeared.
-The second phase of the logistics project focused on automatic document indexing. Here, the document management solution DocPath Aspen was used to store and classify the delivery notes in PDF format. This phase also ensured that the company is now able to offer secure access—through a strict policy—to all scanned delivery notes for all its customers and employees.
Satisfactory Results for Both Parties
The logistics operator and the technological company are more than satisfied with the implementation of DocPath´s document solutions.
On the one hand, the operator has been able to provide an optimum solution to cover the requirements of its client and, on the other hand, the technological company has greatly enhanced its document work flow and its administrative employees are now dedicated to other, more qualified, tasks.
Solutions implemented:

About DocPath
DocPath is a leading document technology software manufacturer. Created in 1992, its solutions are found in companies all over the world. Among its international clients, are prestigious banks and first-class corporations, which are aided by DocPath solutions by simplifying the complicated and critical task involving design and the distribution of documents. DocPath maintains a strong commitment to R&D&i, an area that receives a good amount of its revenue, and in which lies the key to the company´s success.
For more information, visit: http://www.docpath.com
DocPath is a registered trademark of DocPath Corp. All rights reserved. Other trademarks may be the property of their respective owners.