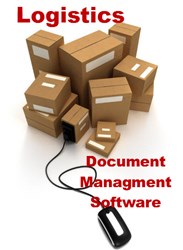 With this new technology, the drivers themselves are responsible for managing their delivery notes, which are automatically added to the company´s internal system.
Suwanee, GA (PRWEB) October 22, 2013
DocPath has updated and adapted its document management software to be able to offer a complete solution to the main technological difficulties that most transport and logistics companies are experiencing. The result is a powerful document system that allows a company's drivers to easily manage the entire life cycle of their delivery notes, which are automatically added to the company's internal system. This automated process not only saves time and costs, but also increases the company's productivity levels.
One of the main problems that logistics companies are facing is how to correctly manage the large amounts of documents related to each delivery route. This task is generally performed exclusively by administrative personnel, which means more costs and more time dedicated solely to document management.
DocPath has responded to this widely-expressed challenge with a flexible technology that seamlessly adapts to the requirements of the logistics sector. The resulting software automatizes the main document management processes performed in the warehouses of large distribution organizations. More specifically, these processes now involve the drivers, who print, scan and manage the delivery notes themselves.
With this highly flexible technology, DocPath not only contents transportation and distribution companies of the logistics sector, but also satisfies their clients, which obviously means a better corporate image.
Easy-to-use document technology for all types of users
The main benefit of purchasing DocPath's document software adapted to the logistics sector lies in its compatibility with the company's hardware. This reduces the costs of both purchase and maintenance. Moreover, installation at the different workstations is straightforward and the software comes with an easy-to-use graphical interface for touch screens. This means that the company's drivers will have no difficulties when managing the delivery notes related to each route themselves.
Before starting their route, the drivers may perform different operations at their work stations, such as generating and printing the delivery notes related to their current route and signing the bill of lading on the tablet. Then each digital signature is automatically added to the company's internal system.
After the route and back at the warehouse, each driver ends the route by placing a pile of delivery notes related to the current delivery in the scanner tray. Here, all the documents are automatically digitized via barcodes and added to the company's system.
An added benefit is that it are also the drivers themselves, using touch screens, who manage any partial or total incidents related to each delivery, as DocPath has designed a specific feature for this task. Again, the results are an important time and cost reduction, in addition to increased productivity levels.
Sector-focused software
DocPath's document management software geared towards the logistics sector is mainly designed in Java. Apart from the graphical interface, the software consists of a document generation engine that controls overall document process management, a Web Service that integrates the software with the client's existing system, and DocPath Aspen, a complete document management system that allows for efficiente storage of a company's legacy documents and online queries and retrieval.
The default print output formats are PDF and PCL, but the software is flexible and can be configured to generate any DocPath supported output format and distribution method.
About DocPath
DocPath is a leading document technology software manufacturer. Founded in 1992, its headquarters is located in Madrid, Spain, with two other design and development offices. DocPath solutions are found in companies all over the world. Among its international clients are prestigious banks and first-class corporations, which are aided by DocPath solutions by simplifying the complicated and critical tasks involving design and the distribution of documents. DocPath maintains a strong commitment to R&D&i, an area that receives a good amount of its revenue, and in which lies the key to the company's success.
For more information, visit http://www.docpath.com.
DocPath is a registered trademark of DocPath Corp. All rights reserved. Other trademarks may be the property of their respective owners..