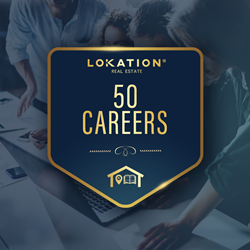 "Nathan is offering an entree to all facets of the industry required for a successful career in Real Estate. Leveraging the power of our next-gen technology, tools, and support puts new agents on a strong trajectory for success out-of-the-gate" commented Jeremy Beard, Dir. of Business Development
Pompano Beach (PRWEB) July 24, 2020
LoKation Real Estate is offering an unprecedented opportunity to empower 50 motivated and qualified candidates with a new career in Real Estate. LoKation's CEO, Nathan Klutznick, announced a personal initiative to provide individuals who have lost their jobs and experienced hardships due to the Pandemic a new hope. "I have seen so many professionals prosper during this time, however, I have great empathy for those who have not. Many have lost their jobs, experienced reduced hours or are simply trapped in a position in which they cannot excel. I did not start this company until I was laid off and my back was against the wall…if I can help some of you do the same it would mean the world to me," he stated in a recent social media post.
This will include covering cost for the Florida 63 Hr. Sales Associate Pre-License Class, providing an "immersion" experience via access to The Sphere, LoKation's robust online portal which all LoKation REALTORS® enjoy offering access to the on-demand training library, weekly Professional Development webinars hosted by Subject Matter Experts and introduction to all aspects of a Real Estate by virtue of education from LoKation's in-house Family of Services comprised of Lending, Title & Escrow and Insurance Services.
"Nathan is offering an entree to all facets of the industry required for a successful career in Real Estate. Leveraging the power of our next-gen technology, tools, and support puts new agents on a strong trajectory for success out-of-the-gate," commented Jeremy Beard, Dir. of Business Development
Additionally, LoKation Managing Broker and Licensed Real Estate Instructor, Jonathan Lickstein, will host weekly Q&A live sessions and Cram Sessions on a dedicated Facebook group just for these 50-aspiring people. Once a candidate passes, they will then go through an Agent Kickstart program which will entail a bespoke "Go-To Market" strategy, common compliance & contract questions, marketing analysis techniques, listing presentation basics, and digital / print advertising.
Post-Licensing, there will be ongoing benefits afforded by waiving LoKation fees for a period to allow them to ramp-up their newfound business. In summation, Mr. Lickstein remarked, "The real estate industry as we once knew it has been upended yet LoKation has seen unprecedented growth in the last two months. We are Uber, not taxis. Netflix, not Blockbuster. This tech-forward approach, combined with our myriad resources and guidance are the catalyst for a new way of conducting Real Estate for agents, giving them a much higher chance of success. I relish the opportunity to shepherd these 50 people to a new, prosperous career."
Potential participants can email 50careers@lokationre.com to apply for consideration.