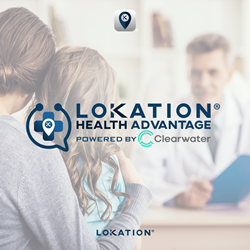 Our tagline, Built by Agents, For Agents is evident in our commitment to meeting both professional and personal needs of our Agents." – Jeremy Beard, Dir., Business Development
POMPANO BEACH, Fla. (PRWEB) February 04, 2021
LoKation Real Estate, the Tech-Forward Hybrid Brokerage, launched a partnership with Clearwater Benefits to offer lower-cost choices for health care for their thousands of Agents across Florida, Georgia, and Colorado.
Clearwater Benefits is an insurance brokerage that offers healthcare to Agents who need affordable plans for themselves and their families. Expensive costs and confusing terms can make picking health plans feel overwhelming. Clearwater is tasked with helping LoKation Agents confidently negotiate this process to find the best plan for them, and their families.
"I speak to thousands of Agents per year and many express the issue of being a 1099 Contractor as it relates to insurance. Our tagline, Built by Agents, For Agents is evident in our commitment to meeting both professional and personal needs of our Agents." – Jeremy Beard, Director, Business Development
LoKation Agents can enroll in traditional insurance or an innovative healthcare options that potentially saves up to $10,000 a year and dramatic reductions in out-of-pocket expenses for improved health benefits over the Health Insurance Marketplace. LoKation Health Advantage is now available to all LoKation Real Estate Agents.
About LoKation Real Estate
LoKation® Real Estate is a tech-forward brokerage that is at the forefront providing the most opportunity, profitability and support Agents require to actualize their potential. Cloud-based technology and SmartSpaces for Agents, LoKation covers all aspects of buying and selling – Real Estate, Mortgage, Title & Insurance services. LoKation ranks #55 per National Association of Realtor® Top 75 Independent Brokerages in the Nation (2020 report) and has produces close to $2b in sales per year. LoKation arms their REALTORS® with the best technology and all the resources needed under one roof including the most efficient online platform for agents to operate from, allowing them to be free to conduct transactions from anywhere. LoKation gives back via our LoKation® Cares philanthropy initiatives in multiple states. Our commitment to our community, agents, and industry is evident through our actions.