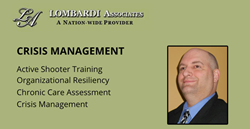 I see his leadership style promoting truly impactful crisis management practices and his keen eye for detail will ensure time sensitive crisis response and organizational resiliency processes for our customers
FAIRFIELD, N.J. (PRWEB) October 04, 2019
Michael brings over 11 years of clinical experience including 4 years as a crisis counselor at Lombardi Associates. He possesses a deep understanding of victims' responses to trauma and has worked extensively in the areas of adolescent and adult Trauma and PTSD, grief and loss, and sexual violence prevention and education.
Michael received his Bachelor of Science degree in Psychology from the University of Maryland, University College and his Master of Arts in Counseling from Montclair State University. He is a board- certified counselor through the NBCC, a Certified Trauma Services Specialist and a Licensed Professional Counselor. Michael also volunteers his services in his home state of New Jersey as a Disaster Response Crisis Counselor.
Michael is an impactful public speaker, having developed and implemented presentations for responses to sexual violence at universities. He also has provided lectures, trainings and outreach services at various public education events.
In his free time Michael enjoys photography, hiking, and spending time with his girlfriend, her children and two dogs.
Lombardi Associates' crisis team is national and multi-disciplinary. Team members are clinically trained from diverse professional backgrounds (medical doctors, licensed clinical social workers, psychologists, fire fighters, army chaplains, etc.) and they all specialize in trauma recovery.
Tracey Lombardi, President, said this, "Lombardi Associates has always been proud of our deep relationships with our customers and our ability to customize services to meet their unique needs. Michael is a consummate professional. I see his leadership style promoting truly impactful crisis management practices and his keen eye for detail will ensure time sensitive crisis response and organizational resiliency processes for our customers."
Kotch will lead Lombardi's crisis specialists across the nation: providing oversight, training and recruitment. Outreach and speaking engagements will be a strong focus for him as Lombardi Associates continues to build out their service line and their nationwide expansion.
About Lombardi Associates
Lombardi Associates is a woman owned business and a national provider of case management, crisis management, vocational rehabilitation and cost management solutions for insurance carriers, third party administrators, attorneys and employers. Lombardi Associates supports the workers' compensation, auto, disability and general liability insurance markets.