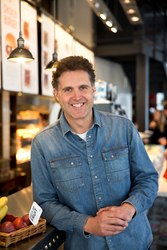 D.C. feels like the most special of starts to our U.S. adventure. We hope we can do our bit to make it easier for Washingtonians to eat and live well
WASHINGTON (PRWEB) September 04, 2018
LEON, the London-based pioneer of "Naturally Fast Food" will open its first U.S. location in mid-September at 1724 L Street NW in Washington D.C. With a media preview day on September 12 and restaurant opening that week, this will be the brand's first venture into the U.S. fast food market.
Named after co-founder and CEO John Vincent's father, LEON was created to introduce a new category of fast food, and to answer one question: "Why can't fast food be good food?" LEON's holistic approach is based around the proven health benefits of the Mediterranean diet, aimed at creating fast food that is good for you.
With a menu drawing on the richness, flavor and natural goodness of the Mediterranean food culture, LEON has been built on using ingredients that taste good and do you good – lots of plants, good meats, and good fats from nuts, seeds and olive oil, flavored naturally with fresh herbs and spices. For breakfast, LEON's menu includes dishes such as the Smashed Avocado & Halloumi Muffin and Blueberry, Honey & Toasted Seeds Oatmeal Porridge. The daytime menu features dishes like the Moroccan Meatballs, Sweet Potato Falafel, Chicken Superfood Salad and Lamb Kofte Wrap.
"We set about to create fast food that first and foremost tastes fantastic, that is surprisingly good for you, affordable, and kind to the planet," said Vincent.
"Our goal is to serve you within 45 seconds of you reaching the front of the line," said Vincent. "This is a fast food model, with five fast-moving lines, fast food menu boards, and a kitchen that makes good food at speed."
LEON has from its inception led the way on sustainability. As with their London restaurants, the D.C. LEON will be powered by sustainable energy (100% wind power). LEON has also continued to increase the number of plant-based dishes on the menu, and proactively removed all plastic straws and cutlery. Additionally, packaging is compostable, minimizing their carbon footprint and limiting the amount of natural capital required to operate.
"Businesses need to better value the most precious asset we have – the world around us," said Vincent. "Businesses use up, and even damage, the natural capital that we inherit, and we need to better account for that, or better still, stop destroying it."
"D.C. feels like the most special of starts to our U.S. adventure," Vincent continued. "We have found the people, community and culture of D.C. very inspiring. We hope we can do our bit to make it easier for Washingtonians to eat and live well."
Kim Darroch, British Ambassador to the U.S., said, "LEON is a runaway success in the U.K., with nearly 50 locations around the country – including one on Victoria Street in central London, a short walk from my office. I'm a frequent customer! With the first U.S. location opening right down the road in Washington, LEON will join the ranks of other successful British exports like Somerset cheddar and Scotch whisky, contributing to a bilateral food and drink relationship worth $2.8 billion."
D.C. represents the fifth international city for the U.K.-based restaurant concept. LEON has grown to 60 restaurants since 2004 with locations in Oslo, Amsterdam, Utrecht and Gran Canaria, and has plans to grow in other cities across Europe and the U.S.
About LEON Restaurants
LEON was founded in 2004 with the mission to 'make it easier for everyone to eat and live well.' The company has 60 locations in the U.K., Norway, and the Netherlands. LEON is led by co-founder and CEO John Vincent and is backed by two principal investors including Brazil-based GP Investments, a leading global private equity fund, and London-based, Active Private Equity. In 2017, GP Investments' subsidiary, Spice Private Equity invested in LEON to fund its growth in Europe and the US.
LEON has been an award-winning brand from the start, earning recognition as Best Newcomer in 2005 and a steady stream of accolades since, including Best Quick Service Restaurant. LEON was named Raymond Blanc Sustainability Hero in 2017 and is the recipient of the People Award for Employee Engagement, the Responsible Capitalism Award, and was given the award for Best Company in addition to its other credits. More information can be found by visiting https://leon.co/us.
Facebook- @leonrestaurantsUSA; Instagram- @leonrestaurantsusa; Twitter- @leonUSA
280 characters or less for Twitter consideration: Why can't #fastfood be good food? @leonUSA lands in #DC offering #NaturallyFastFood on L Street.