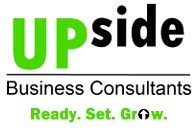 Passion, guts and persistence are essential parts of growing a business. So is developing a focused plan of attack on how you will outperform other companies in your niche.
Hauppauge, NY (PRWEB) October 21, 2013
Every business owner should have a clear understanding of his/her customers and competitors in a marketing plan, according to marketing professor, Robert Thomas, at Georgetown University.
Douglas Betensky, owner of the Long Island marketing firm Upside Business Consultants, expounds upon this truth in a newly released article on his firm's blog, "Marketing Garden: A Blog for Growing Businesses." In the article, Five 2014 Marketing Plan Writing Tips You Don't Want To Miss, he shares valuable marketing strategy tips every small business owner should consider when looking ahead.
"The marketplace is competitive and customer behavior shifts over time, especially as technology changes rapidly," says President Doug Betensky. "Companies that adapt and evolve with the times get ahead in the long-run."
According to Upside Business Consultants, many small business owners share common goals as well as common roadblocks to success: they aim to grow profitable businesses but fail to plan. As a result, they do not execute the activities that will get them results.
"Passion, guts and persistence are essential parts of growing a business. So is developing a focused plan of attack on how you will outperform other companies in your niche," say Mr. Betensky. The Long Island marketing firm is working with clients to achieve these goals by helping them craft, write, improve and implement their marketing plans.
"There are three core objectives to improving your results and increasing profits. They include attracting profitable new customers, deepening relationships with existing customers, and expanding your customer base in untapped market segments," says Mr. Betensky.
He also advises business owners entering their last quarter to have a solid marketing plan in place before January 1, 2014. Marketing consultants at the consulting firm advise Long Island business owners to think about their marketing plan on both an annual and a monthly basis.
"Plan big and plan small," says Mr. Betensky. "Your marketing plan should be cohesive and detailed, covering all areas of your online and offline marketing. Each strategy should be supported by specific tactics. Know what you are going to accomplish on a monthly basis and align company budgets, resources and staffing accordingly."
There are some fundamental steps to take before you write your 2014 marketing plan. "First, you must be able to identify your customers' core problem and have a viable solution that solves that problem better than the competition can," Mr. Betensky advises. "If your business model is sound, you can then focus on your marketing plan to attract and convert new customers. If not, it's time to retool."
The full 2014 Marketing Plan Tips article can be viewed at: http://upsidebusiness.com/blog/2013/09/26/five-2014-marketing-plan-writing-tips-you-dont-want-to-miss/
Upside Business Consultants is offering business owners and startup companies assistance with developing their marketing plans. Any small business owners who are interested can contact info(at)upsidebusiness(dot)com or call (516) 610-0922.
About Upside Business Consultants
Based in Hauppauge, NY Upside provides marketing consulting, internet marketing, and marketing coaching/training. It also provides full service marketing services, including web video production, social media marketing, website design and PR.
The firm provides a unique combination of strategic marketing consulting and agency services that clients need to grow, whether they are launching a new business or looking for strategies to grow an established business or organization. Upside's New York marketing consultants are recognized for well thought out strategies, personalized service, and deep knowledge of marketing strategy across all marketing channels.