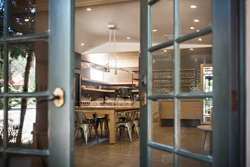 "We are thrilled to share our Anderson Valley Estate wines as we welcome guests to our new tasting room. Having guests taste these wines so close to where they're made brings the experience full circle." - Chris Hall, Long Meadow Ranch Executive Vice President and Chief Operating Officer
ST. HELENA, Calif. (PRWEB) July 26, 2018
Long Meadow Ranch (http://www.longmeadowranch.com) is excited to announce the opening of its new Anderson Valley tasting room at The Madrones (http://www.themadrones.com), an elegant boutique resort on Highway 128 in Philo, California. The opening is the latest in a series of investments and developments by Long Meadow Ranch and the Hall Family in Northern California. Established in 1989, Long Meadow Ranch now operates a dynamic business that comprises multiple wine estates as well as an organic, sustainable, integrated farming system that encompasses over 2,000 acres of land in Northern California.
"We have always been intrigued by the dramatic climate and geography of the Anderson Valley, particularly the deep end, as well as the region's potential to make pure expressions of Pinot Noir and Chardonnay," comments Executive Vice President and Chief Operating Officer Chris Hall. "When the estate, and subsequently the tasting room, became available, we jumped at the opportunity to plant a stake in this incredible place."
Long Meadow Ranch's tasting room joins an exclusive collective of wineries at The Madrones, featuring some of Anderson Valley's finest producers, including Drew Family Cellars and Smith-Story Winery. The new tasting room will allow guests to taste and experience Long Meadow Ranch's Anderson Valley Estate wines while immersed in the area in which they are made.
The Long Meadow Ranch Anderson Valley Estate is located just a few miles away from the new tasting room, in the west, or "deep end" of the Anderson Valley in Mendocino County. Acquired by the Hall Family in 2015, the 145-acre Estate is planted with 69 acres of Pinot Noir, Chardonnay and Pinot Gris. The Navarro River forms the southwest border to the property, and the Pacific Ocean nearby brings cool sea breezes and a marine layer blanketing the vineyards, creating the ideal terroir for estate-grown Burgundian varieties.
"We are thrilled to share our Anderson Valley Estate wines as we welcome guests to our new tasting room," continues Hall. "Having guests taste these wines so close to where they're made brings the experience full circle."
Long Meadow Ranch focuses on Pinot Noir, Chardonnay and Pinot Gris in the Anderson Valley, partnering with Burgundy native Stéphane Vivier to produce the wines. "I am excited to be a part of this project and bring my experience with Burgundian varietals to the Long Meadow Ranch wine team," adds winemaker Stéphane Vivier. "My goal is to put the best expression of the region into the glass and create wines that represent the story of Long Meadow Ranch and the Anderson Valley in a way people can really connect with."
The tasting room offers two wine flights of the Anderson Valley wines: a collection of the Anderson Valley Estate appellation wines ($10 per person), as well as a selection of the Anderson Valley Tanbark Mill Vineyard Estate wines ($25 per person). Additionally, visitors have the opportunity to taste a flight of the Long Meadow Ranch Napa Valley Estate wines ($10 per person), as well as sample Long Meadow Ranch's estate grown and produced organic extra-virgin olive oils.
In addition to the flights, other offerings for purchase include wines by the glass and bottle, a selection of Long Meadow Ranch provisions, and espresso drinks made from Stumptown Roasters Organic Farmstead blend. The Long Meadow Ranch Anderson Valley tasting room is open Thursday-Monday from 10:30am to 5:00pm, and Tuesdays and Wednesdays by appointment.
Later in the summer, Long Meadow Ranch will begin offering an exclusive Anderson Valley Estate Experience. The guided journey will take guests through the Estate's 69 acres of vineyards, finishing at the Anderson Valley tasting room to taste the wines and enjoy small bites.
The Long Meadow Ranch Anderson Valley tasting room is located in The Madrones at 9000 Hwy. 128, Philo, CA 95466. The phone number is (707) 963-4555. For more information and details, please visit http://www.longmeadowranch.com/eat-drink/anderson-valley-tasting-room.
About Long Meadow Ranch
Long Meadow Ranch is a family-owned agricultural enterprise producing estate-grown grapes and wine, olives and olive oil, grass-fed beef and lamb, fruits, vegetables, and eggs. The multifaceted operation includes the LMR Mayacamas Estate home ranch and the 90-acre LMR Rutherford Estate in Napa and the 145-acre LMR Anderson Valley Estate in Mendocino.
In addition, Long Meadow Ranch operates a general store and wine tasting bar in the historic Logan-Ives House, an outdoor cafe, a farmer's market, and an acclaimed farm-to-table restaurant, all located at Farmstead at Long Meadow Ranch (738 Main Street, St. Helena in the Napa Valley). The destination location also includes working gardens and a variety of unique event spaces. Consistent with its time-honored motto of "Excellence through Responsible Farming," Long Meadow Ranch is certified by the California Certified Organic Farmers.