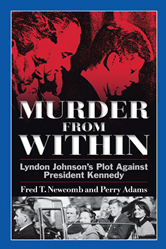 "The best of the Warren Commission critics [include] . . . Fred Newcomb, Perry Adams . . ."—Rolling Stone
CENTERVILLE, Mass. (PRWEB) February 03, 2020
CENTERVILLE, Mass. – Written in 1974, "Murder From Within: Lyndon Johnson's Plot Against President Kennedy" explores what actually happened to President Kennedy, the consequences of his murder, and what action Americans can take to protect their institutions from further internal assault. Authors Fred T. Newcomb and Perry Adams uncover the plot to remove President Kennedy from power and reveal the subsequent cover up.
"Murder From Within" is the only book that solves the crime of the century by identifying names and producing irrefutable evidence. The book presents visual evidence as well as seven years' worth of research to present the inescapable truth behind this timeless subject. "Murder From Within" reveals in detail how a small high level group within Kennedy's own Cabinet betrayed him and killed him to benefit an ambitious Vice President determined to become President regardless of the consequences.
A quote from "The Purloined Letter" by Edgar Allen Poe illustrates how the evidence discovered in "Murder From Within" was hidden in plain sight: "That which is most simple and obvious is the hardest to fathom."
Tyler Newcomb, son of the now deceased Fred T. Newcomb, worked with his sister Valerie Woods to publish "Murder From Within" in memory of their father and his dedication to finding the truth behind the assassination of the 35th president of the United States. Tyler worked as his father's investigative partner throughout his time researching the assassination of John F. Kennedy. Fred T. Newcomb was able to see his published work three months before his passing.
The book has received raving reviews from Rolling Stone and from five-term Arizona Senator, Barry Goldwater.
"The best of the Warren Commission critics [include] . . . Fred Newcomb, Perry Adams . . ."—Rolling Stone
". . . the book . . . seems to be very concise, detailed and well documented."—Barry Goldwater, five-term senator from Arizona
Readers will be astonished by the overwhelming evidence presented in "Murder From Within." This mysterious and timeless subject is addressed as we celebrate President's Day in February.
"Murder From Within: Lyndon Johnson's Plot Against President Kennedy"
By Fred T. Newcomb and Perry Adams
ISBN: 9781463422424 (softcover); 9781463420666 (hardcover); 9781463422455 (eBook)
Available at the Author House Online Bookstore, Amazon and Barnes & Noble
About the author
Fred Newcomb, now deceased, was an award-winning self-employed advertising art director with expertise in photography and graphics. He had just completed his now famous study about how the notorious Oswald backyard photos were faked when he teamed up with coauthor Perry Adams.
Perry Adams, now deceased, political scientist and editor of Probe, an investigative newspaper based in Santa Barbara California, was looking for a solid story about the Kennedy assassination. Perry graduated as a Librarian and his knowledge and ability to look up facts was indispensable in piecing the book together with its extensive footnotes.
Tyler Newcomb was a witness to his father researching and writing "Murder From Within." Newcomb wrote the foreword as well as provided updates to the book. He worked with his sister Valerie Woods to publish the book as a gift to their father and his partner.
For more information, please visit: https://www.murderfromwithin.com/
General Inquiries:
LAVIDGE – Phoenix
Meghan Bowman
480-998-2600 x 584
mbowman@lavidge.com