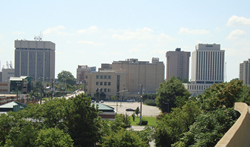 We are very excited to be hosting a new volleyball camp with Chris.
SAN RAFAEL, Calif. (PRWEB) January 30, 2020
As former Head Coach at Virginia Tech, Chris Riley directed the Nike Volleyball Camp at Virginia Tech for 11 years, before moving on to direct the Nike Volleyball Camp in Virginia Beach. So far, he has helped over a thousand athletes improve in the sport and gain confidence on the court.
"We are very excited to be hosting a new volleyball camp with Chris," exclaims Siera Love, National Manager of Nike Volleyball Camps. "He has so much experience teaching young athletes and we love that more players will have the opportunity to work with him."
This new Virginia volleyball camp will not only offer an All Skills program, but a Position Specialty clinic as well. Both sessions will be open to girls, ages 10-18, of all ability levels and will be hosted in the gyms at Peninsula Catholic High School, a private school located near downtown Newport News.
Campers attending the All Skills program will experience an all-encompassing training program that will cover all aspects of volleyball such as positional work, passing, and serving. The Position Specialty program is designed for players looking to hone their skills in a specific position. Here they will learn techniques used by Division I athletes and receive feedback from Riley.
Players, coaches, and parents interested in camps can visit Nike Volleyball Camps at http://www.ussportscamps.com/volleyball or call 1-800-645-3226.
About US Sports Camps
US Sports Camps (USSC), headquartered in San Rafael, California, is America's largest sports camp network and the licensed operator of Nike Sports Camps. The company has offered summer camps since 1975 with the same mission that defines it today: to shape a lifelong enjoyment of athletics through high-quality sports education and skill enhancement.