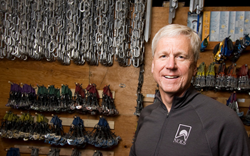 John led NOLS into the future. He built a leadership team that supported innovation and financial acumen.
LANDER, Wyo. (PRWEB) December 19, 2018
NOLS (National Outdoor Leadership School) President John Gans announced on November 28 his plans to retire at the end of 2019. He is the fifth president in the school's 53-year history and its longest-serving leader. Named White House Champion for Change "for his commitment to youth, wilderness, and leadership" in 2012, Gans will leave an enduring legacy highlighted by strong financial landscape, formalization of wilderness leadership curriculum, and a commitment to students in the outdoors. In his time, NOLS has been continuously accredited since 1995 by the Association for Experiential Education (AEE), acquired the Wilderness Medicine Institute, received the 1999 Leave No Trace Partnership Award, and the Outdoor Industry Association Inspiration Award for sponsoring the first all-African American team to attempt to climb North America's highest peak.
Founded in 1965 by Paul Petzoldt, the Lander-based nonprofit wilderness school grew from classrooms in Wyoming's rugged Wind River mountain range evolving to become the premier outdoor education school, operating 16 campuses around the world and serving 28,363 students last year. Under Gans' leadership, the school increased overall income by 300% and grew its faculty and staff from 475 to 1,296. NOLS contributed $1.9 million in financial aid awards in 2018 reflecting 437% growth in available needs-based scholarship funding during Gans' tenure.
Gans himself started his NOLS journey as a scholarship student in 1979 on a Semester in Kenya, later serving as director of NOLS Alaska, admissions & marketing director, and operations director before assuming the role of president in October 1995. He has been a part of the school for 38 years and at the conclusion of 2019, he will have served as the school's executive director and president for 24 years.
"John led NOLS into the future," said Marc Randolph, Netflix co-founder and Chair of the NOLS Board of Trustees. "He built a leadership team that supported innovation and financial acumen, and evolved the school from an institution focused solely on the outdoor classroom to one that puts students first while achieving financial stability."
Paving the Way
When Gans took the helm as NOLS executive director, the school was celebrating its 30th anniversary. He inherited an organization facing flattening student enrollment. Looking forward, Gans directed the school's leadership team to achieve a number of "firsts" for NOLS, including long-term strategic planning and empowering staff and instructors be a part of the vision for the school.
"I am exceedingly proud of what we have accomplished together over these past 24 years," said Gans. "Together, NOLS has made the world a better, more inclusive place and it has been an honor of the highest order to serve as the fifth leader of this remarkable organization."
Under Gans' tenure, the school formally established an endowment that has enabled the school to achieve financial stability. The endowment provides NOLS the confidence and freedom to better serve diverse student audiences to share its mission more broadly. As a result, the school has grown its financial aid and scholarship awards from $354,000 in 1995 to $1.9 million in 2018.
For Gans, his "proudest legacy" was the formal development of the NOLS leadership curriculum. Prior to 1995, leadership was taught on NOLS courses in a purely organic and rather inconsistent way. Gans launched the Leadership Project a year into his directorship, inviting a cohort of senior NOLS staff to conduct a comprehensive study and develop teaching best practices. The result was the nationally-recognized 4-7-1 leadership model. This curriculum continues to be field-tested and incorporated into NOLS' extensive course offerings today.
"Defining the leadership curriculum enabled NOLS to bring our leadership training into the 21st century," said Gans. "This evolution helped the school solidify its mission and has become a key differentiator for our programs. It has given us a curriculum sought out by business schools, Google management, NASA, the military, and schools across the nation."
Student Inclusion
Gans prioritized the school's students first and foremost—from their life-changing experiences in the field to their safety and well-being. He furthered NOLS' proven safety track record by investing in risk management leadership and resources, such as developing accepted field practices around the world, which led to a decline in student incidents under his watch.
Through Gans' and his team's commitment to student diversity and financial support, the school grew its in-house Gateway Partner Program, attracting a growing number of youth-driven organizations seeking wilderness and leadership opportunities for students with high potential. NOLS has provided outdoor classrooms for students from Summer Search, C5 Youth Foundation, STEP, and many more.
A pinnacle moment, NOLS sponsored Expedition Denali, the first all-African American team to attempt to climb the highest peak in North America in 2012. Led by NOLS instructors, Expedition Denali earned the 2012 and 2014 Outdoor Industry Association's Outdoor Industry Inspiration Award. Today, the expedition's documentary continues to inspire young people to pursue their dreams and to work toward equity in the outdoors.
Close to home, NOLS improved the school's relationship with the Wind River Reservation and developed long-standing ties to Lander Valley High School, University of Wyoming, and Central Wyoming College. The school also created a dedicated scholarship for Fremont County residents.
A Focus on Growth
2018 proved to be a record year as NOLS delivered wilderness education experiences to 28,363 students. Over the past 23 years, the school increased overall revenues by 300% and grew its faculty and staff from 475 to 1,296. The school's unparalleled organizational growth resulted from Gans' ability to mobilize its board of trustees, donors, senior leaders, faculty and staff to develop and execute strategic initiatives.
Gans' leadership advanced NOLS from solely operating as an expedition-focused organization to establishing itself as an industry leader, providing a diverse portfolio of services including wilderness medicine certifications, professional leadership training, customized group programs, and risk management consulting.
Supported by a visionary staff and board of trustees, NOLS acquired the Wilderness Medicine Institute, the leading provider of wilderness first aid and wilderness first responder courses, in 1999. The addition of wilderness medicine curriculum naturally complemented NOLS' core expedition offerings. Today, NOLS Wilderness Medicine provides industry-recognized wilderness medicine credentials to 23,500 students annually, both directly and through synergistic partnerships with organizations such as REI, Landmark Learning, and over 400 sponsor organizations.
In 2000, the school created a new division to better serve corporate and group markets. NOLS Custom Education has provided personalized leadership training to organizations as varied as NASA, The Robertson Scholars Leadership Program, top ranked business schools, military service organizations, secondary schools, and youth pathway programs.
Success with the NOLS Custom Education business model led to NOLS' investment in growing its risk management consulting offerings and the creation of NOLS Risk Services. This team provides risk management reviews and consultations to organizations with outdoor education programs and interests. NOLS Risk Services also serves as a founder and legacy partner of the successful Wilderness Risk Management Conference, now in its 25th year.
"Through strategic acquisitions and the evolution of our core expedition offerings, NOLS has leveraged its leadership and wilderness education curriculum, allowing the school to expand its reach and serve wider audiences," said Gans.
Commitment to Central Wyoming
NOLS shares a rich history in Lander, Wyoming, one that is embodied by tangible achievements during Gans' tenure as president. Constructed in 2001, the new NOLS headquarters solidified the school's place and commitment to the Lander community. The multi-story building also represented NOLS' growing and diverse needs as it matured into an established nonprofit with deep roots in the community.
The historic Noble Hotel was renovated in 2005, honoring both Lander and NOLS' history while providing a comfortable and welcoming first introduction for many NOLS students and a "home base" for many instructors. NOLS Rocky Mountain underwent renovations in 2008 and received a number of environmental sustainability-minded updates including solar panels, geothermal heat pumps, and interior space improvements.
Most recently, the Wyss Wilderness Medicine Campus was completed in 2012 and is the first LEED Platinum project in Lander and the fifth in the state of Wyoming. The campus, home to the growing NOLS Wilderness Medicine program, includes classrooms, meeting spaces, offices, a student commons, and kitchen and dining facilities. Additionally, there is 4,500-square-feet of housing for 32 students and four staff.
Industry Recognition
NOLS' ongoing commitment to its students, communities, and the environment have not gone unnoticed.
NOLS has been continuously accredited by the Association for Experiential Education (AEE) since 1995 and received the Leave No Trace Partnership Award in 1999. Also in 1999, NOLS received the Educational Business Partner of the Year for Wind River Reservation award.
In 2004, NOLS was recognized with the LEADER Corporation Award from Gov. Dave Freudenthal. The school was honored for ethical business practices by the Wyoming Business Report in 2005.
NOLS received the Lander Chamber of Commerce Anchor Award consecutively in 2011 and 2012.
A highlight in 2012, Gans received the honor of being named a White House Champion for Change "for his commitment to youth, wilderness, and leadership".
The Future
Since 1965, NOLS has established its place as a global nonprofit school serving students from all backgrounds. With 16 NOLS locations worldwide, the school currently operates in all 50 states and in dozens of countries.
Gans has shared that his immediate plans include more time spent camping in the outdoors and exploring wilderness with his family and Corgi.
In December, the NOLS Board of Trustees will form a presidential search committee consisting of trustees and other members of the NOLS community. The search committee, chaired by trustee Greg Avis, will determine timing, scope, and process as the school endeavors to conduct a global search for its next President.
About NOLS
NOLS is a nonprofit, global wilderness school that educates students to step forward on an expedition, wilderness medicine, custom education or risk services offering. Graduates have a lifelong desire for leadership, commitment to continued skills development, and ongoing education. Since 1965, NOLS has embraced and explored the unknown through outdoor- and classroom-based courses. To discover the NOLS experience or to bring a course to your business or organization, visit http://www.nols.edu.