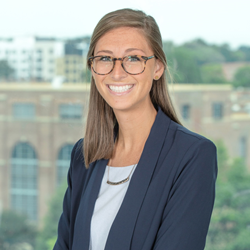 DURHAM, N.C. and BOSTON (PRWEB) August 28, 2018
Longfellow Real Estate Partners has added a total of 13 new team members to support its Class-A office holdings in the greater Boston area and North Carolina's Research Triangle region. The team is also posting new positions on almost a weekly basis with six current openings for talented individuals with skills ranging from investment strategy to marketing coordination and tenant management.
EXPANDED NC TEAM
Longfellow's Durham/Research Triangle headquarters has hired eight new team members -- bringing its total staff in North Carolina to 24. The new hires will carry forward Longfellow's mission of providing best-in-class service and amenities to its community of clients across 1,821,728 sq ft of Class-A office and lab space in Durham and the Research Triangle region.
Longfellow's new North Carolina hires are:

Katrina Baptist – Assistant Property Manager, Durham, NC
Anna Boggs – Administrative Associate, Durham, NC
Lindsey Brown – Senior Project Manager, Durham, NC
Maria Fabrizio – Senior Property Administrator, Durham, NC
Braxton Moye – Facilities Maintenance Specialist, Durham, NC
Alexandra Nagle – Tenant Relations Coordinator, Durham, NC
Zach Swift – Associate, Accounting, Durham, NC
Drew Terry – Facilities Maintenance Specialist, Durham, NC
Please find photos here.
North Carolina Portfolio
Longfellow has become the largest purveyor of Class-A office and lab space in North Carolina. Longfellow's Research Triangle-based portfolio includes:

Durham Innovation District (Durham.ID) -- 1.7 million sq ft, 17 acres
Keystone Technology Park -- 806,157 sq ft, 80 acres
BioPoint -- 148,828 sq ft
Exchange Place and Royal at Imperial Center -- 187,651 sq ft
Venture at Imperial Center -- 138,337 sq ft
Research Lab at 710 W. Main St -- 51,174 sq ft
Carmichael Building -- 114,600 sq ft.
Quote from Jessica Brock, managing director, based in Durham, N.C.:
"We're in the heart of one of the fastest growing markets in the region. We strive to meet the needs of dynamic companies by both renovating existing space we've acquired, and building from the ground up with market-changing projects like Durham.ID. Our rapidly expanding team will help ensure our tenants receive industry leading service and will keep our sights constantly on the future."
EXPANDED GREATER BOSTON TEAM
In Boston, Longfellow has hired five new team members bringing their Boston-based staff to 26. The team supports a Longfellow network in greater Boston that encompasses 827,928 sq ft of Class-A office and lab space.
Kirk Barrett – Facilities Maintenance Specialist, Cambridge, MA
Joe Crowther – Investments Analyst, Boston, MA
Nellie Ingram – Administrative Associate, Boston, MA
Christopher King – Facilities Operations Manager, Cambridge, MA
Danielle Lazzarini – Tenant Coordinator, Cambridge, MA
Greater Boston Portfolio
In the Greater Boston area, Longfellow's portfolio includes:

100, 125, 150 CambridgePark Drive -- 605,873 sq ft
1 Patriots Park -- 144,230 sq ft
1030 Mass Ave -- 77,805 sq ft
Quote from Jamie Peschel, managing partner, based in Boston, MA.:
"With our latest funding round, recent acquisitions, the completion of projects and the beginning of others, Longfellow is at a pivotal and exciting moment in our history as we continue to grow to meet the demands of our current tenants, solve the needs of potential tenants and create value for our investors."
Longfellow also has several positions available in both markets. They include:
Marketing Administrator, Boston, MA - https://www.linkedin.com/jobs/view/797121149/
Investments Senior Associate, Boston, MA - https://www.linkedin.com/jobs/view/802552074/
Senior Asset Manager, Boston, MA - https://www.linkedin.com/jobs/view/804123003/
General Manager, Boston, MA – https://www.linkedin.com/jobs/view/813138827/
Property Accountant, Boston, MA – https://www.linkedin.com/jobs/view/813147762/
Senior Facilities Maintenance Specialist – to be posted this week
About Longfellow Real Estate Partners
Longfellow Real Estate Partners serves the unique demands of science and technology companies and focuses on the most innovative cluster locations in the US. The firm acquires and develops facilities in strategic locations and builds long-term relationships with research- centric organizations including life science companies, universities, medical centers and research institutes. The principals of Longfellow have developed more than 3.5 million square feet of laboratory and high tech space over their careers including numerous high profile projects on the East Coast. The Company's institutional capabilities and entrepreneurial vision enables Longfellow to deliver high quality laboratories and innovation space while satisfying each tenant's unique requirements. For more information about Longfellow, please email info@lfrep.com.