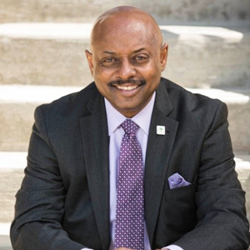 Gene's legacy has been to reinvent, rethink, and reimagine what a housing authority can be as he did at CHA.
CHICAGO (PRWEB) September 29, 2020
Has Lead Housing Authorities in Six Cities; High Praise from Top Mayors
As America confronts the unprecedented twin challenges of an affordable housing crisis and the looming risk of COVID-induced mass evictions, there's an urgent need for incisive assessments of national housing policy. Few housing policy leaders can bring the breadth and depth of on-the-ground experience to the table than Eugene Jones Jr., who is releasing a new book October 15th.
Currently CEO of the Atlanta Housing Authority, during his distinguished 35-year career, Jones has also led housing authorities in Chicago, Kansas City, Indianapolis, Toronto, and Detroit, while also serving as the San Francisco Housing Authority's CFO.
His new book, Housing Humans: A Vicarious Memorandum, provides unique insights drawn from his long career, sharply critiques current national housing policy, and argues for comprehensive housing policy reforms -- which do not always easily fit into either the liberal or conservative ideological boxes.
High Praise from Former Top Democratic and Republican Mayors
The Foreword for Jones's new book features laudatory statements from former Chicago Mayor Rahm Emanuel (D) and former Indianapolis Mayor Stephen Goldsmith (R).
From former Chicago Mayor Rahm Emanuel: "Gene Jones first joined the Chicago Housing Authority (CHA) in April 2015 as Chief Property Officer. Two months later, he became the Acting Chief Executive Officer, and in January 2016, I named him permanent CEO. Gene's leadership's true measure is that he understood that the CHA of old was just an isolated housing network of counted units.
"His passion for customer service made him think not only as a housing authority leader but also as a community builder. While he was in Chicago, Gene made sure housing units were located near libraries, grocery stores, restaurants, coffee shops, transportation centers, better schools, afterschool activities, and sports activities.
"Gene's legacy has been to reinvent, rethink, and reimagine what a housing authority can be as he did at CHA. His book not only relates to his life, the lessons he learned in the military, and at the helm of nine housing authorities that included Toronto, Canada; it also has Gene's vision to reform U.S. housing policy. If you are working in any aspect of U.S. housing, I recommend you read this book."
From former Indianapolis Mayor Stephen Goldsmith: "As Mayor of Indianapolis, I inherited a public housing authority that had been constantly troubled. It could not keep up with maintenance, had a number of problematic practices, constantly found itself troubled by HUD and so on. Too many lives were being adversely affected, and I pressed the Board for reforms and for the hiring of a competent professional—someone who understood housing, finance, HUD rules, and the needs of residents. We found Gene Jones.
"We gave Gene total control over the reforms. I would shield him from political interventions (to this day I don't know his politics—don't care really), and he would professionally execute. There are folks who understand HUD. There are others who know how to lead and manage staff. And still others with sufficient empathy to understand residents and be impatient in the need to solve their problems. Gene was uniquely all three.
"He shaped up the organization, reduced the backlogs, and in record time, produced one of the country's most successful HOPE VI projects that restored dignity for those living there and in the surrounding neighborhood. To this day Gene remains not just to me a respected professional and friend, but an example of the highest qualities in public service."
To purchase Eugene Jones' new book, please visit here.